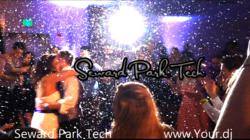 The groom could not have picked a more appropriate song for the finale.
New York, NY (PRWEB) May 31, 2013
It was snow in the middle of spring accompanied by a live track of Bruno Mars singing "I Wanna Marry You" that made this wedding finale one to remember. From the first meeting in a hotel venue located in Westchester, NY, the groom made it clear that he wanted this wedding to be one of the most memorable ever. A few conversations later, Dan and Chrissy, the bride and groom, employed the assistance of Seward Park Tech, the best rated DJ and lighting company in the Northeast to make it possible.
After many e-mail exchanges, meetings and conferences, the final plan was laid out for what was to become one of the most spectacular wedding finales in Westchester NY. "The guests could not stop jumping and dancing, it was a very well-planned build-up from 80s hits remixed by DJ Cabo, all the way up to the final Bruno Mars live song, which everyone went wild for. The groom could not have picked a more appropriate song for the finale," says Kieffer Ramirez, President at Seward Park Tech. The wedding snowfall effect was created using a high-powered artificial snow machine provided by Seward Park Tech, and the final track was edited by DJ Cabo and DJ Ant. "The live music feel put the cherry on top of this amazing and high-energy finale."
View a video of this finale here: http://www.youtube.com/watch?v=8QLmYCGJHnM.
Seward Park Tech is a DJ and lighting company servicing the Tri-State area. Their marquee DJs have years of experience spinning at the most elite night-clubs around the country, and the lighting designers have designed the lighting and special-effects for numerous movies and theater productions around New York City. The lighting, special effects and music are combined to bring the magic of theater into weddings and other special events. Founded in 2010, Seward Park Tech has come a long way, earning dozens of 5-star reviews across the board and winning prestigious entertainment awards such as 'The Knot's Best of Weddings' and 'Wedding Wire's Bride's Choice Award.' Seward Park Tech is also a member of the very exclusive Style Me Pretty's Little Black Book. For more information, please visit http://www.your.dj.