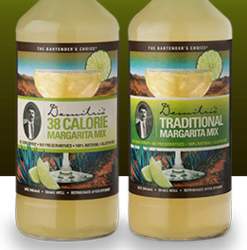 Consistently Delicious
Seattle, WA (PRWEB) May 31, 2013
Legendary for creating a mean bloody mary, Seattle Bartender Demitri Pallis is expanding his award-winning line of drink mixes and seasonings to include margarita mixes. In keeping with the company's all-natural product line, both the Traditional-Style and 38 Calorie Margarita Mixes will be gluten-free, corn syrup-free, preservative-free, and, of course, delicious.
Unlike other margarita mixes currently available, Demitri's contains no more than five ingredients, creating a fresh, all-natural taste with bartender-level quality. By simply adding alcohol, even an amateur can produce consistently delicious drinks, taking the guess work out of the process.
According to Pallis, the product was created in response to unmet needs and mediocre mixes. "I wanted to develop a new margarita mix because what's out there now just doesn't measure up," Owner Pallis says. "Like our Demitri's Bloody Mary Seasonings, this product stands up to anything and everything available in the marketplace, and we couldn't be more proud of the results."
Demitri's Margarita Mixes will be available on June 17th on the company's website for $7.99. Each one liter (32 oz.) bottle makes approximately 10 cocktails.
As a young bartender in Seattle's Pioneer Square, Demitri Pallis recognized a need for a consistently delicious Bloody Mary that professional bartenders could rely on to reduce both labor cost and pouring cost, so in 1988 he introduced his original, 14-ingredient Bloody Mary. Since then, the company has expanded its range to include three additional Bloody Mary mix flavor profiles and two flavorful rim salts, garnering many prestigious national awards along the way. Those interested in distribution are encouraged to visit demitris.com for more information.