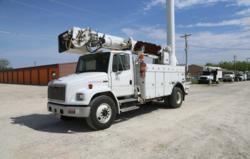 Colona, IL (PRWEB) May 31, 2013
I-80 Equipment has led the way in selling reconditioned bucket trucks and other utility vehicles, providing quality products that exceed standards and expectations in the used bucket truck industry. I-80 Equipment has a reputation for going above and beyond to ensure that every utility vehicle they recondition is restored to its original glory and can even be uniquely tailored through customization services to match a company's needs.
That is why I-80 Equipment is announcing the extension of these services through a new service department, providing annual inspections and service work to the utility vehicles. Company's no longer need to seek out additional mechanic services to support the life of their vehicle purchased through I-80 Equipment. Now a company can purchase a fully reconditioned bucket truck and have it annually inspected at the same facility.
I-80 Equipment puts every boom through a 170-point inspection, providing Altec Boom Certification. As recommended by manufacturers, this equipment should be serviced every year following to ensure quality, safety, and longevity of each utility vehicle. This June, I-80 Equipment will be moving into their new state-of-the-art facility and will offer these services to continuing customers. The inspection covers everything from valves to controls to pedestals. Safety is important to every company utilizing bucket trucks and the only way to guarantee safety is through regular inspection and maintenance.
For further information about these services, company's can contact I-80 Equipment at
I-80 Equipment
120 Walnut Lane
Colona, IL 61241
(Toll-Free) 888.949.3701
(Local) 309.949.3701
(Fax) 309.949.3760
(Email) info(at)i80equipment(dot)com