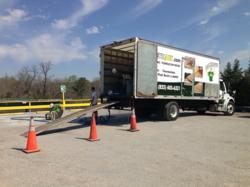 Williamsburg, VA (PRWEB) May 31, 2013
Concrete Jack has been awarded a three year contract for on-call high density polyurethane injection for Hanover County, Virginia. Locations of performance include educational, correctional and public works facilities. Concrete Jack has previously performed high density polyurethane injection (also known as polyurethane concrete raising and foam jacking) to repair settled and unstable concrete for Hanover County's Public Works division at a residential waste transfer station. The contract includes up to two one-year extensions.
Polyurethane concrete raising is covered under commodity code 91008 Concrete Raising and Under-sealing Services. The work involves injecting high density polyurethane foam under concrete and other structures to fill voids and raise the concrete or structure.
Concrete Jack is a deep and shallow foundation repair, concrete raising, and grouting company based in Williamsburg, Virginia. Concrete Jack's previous projects for polyurethane injection include under-sealing interstates, roadways and concrete parking lots to raising commercial foundations and other settled concrete. Concrete Jack serves the entire Mid-Atlantic Region.