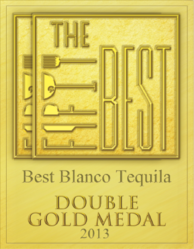 "We are honored to receive this award from TheFiftyBest.com. Being recognized as the world's finest by an organization such as theirs is very humbling." - Chris Brown, CEO
(PRWEB) May 31, 2013
The recipient of 4 awards already in 2013, Hip-Hop Artist and Actor Xzibit's Bonita Platinum strikes again as the top contender – earning a double gold medal and the highest score in the 100% Blue Agave Blanco Tequila Tasting hosted by TheFiftyBest.com.
Their 16 member judging panel blind-tasted Bonita Platinum alongside 29 other 100% agave blancos, and released the results today.
Bonita is the world's first five-times distilled tequila, created from 100% blue weber agave from Jalisco, Mexico. It is bottled in pure crystal, for a true luxury feel.
"We are honored to receive this award from TheFiftyBest.com. Being recognized as the world's finest by an organization such as theirs is very humbling." – Chris Brown, Founder and CEO of The Bonita Spirits Company
Bonita Platinum is now available in several states and in select locations internationally. Consumers can purchase Bonita online at http://shopmerwins.com/bonita.html or contact their nearest retailer to request the product.
###
The Bonita Spirits Company is one of a select group of celebrity owned spirits in the world. The company was founded in 2010 by Chris Brown, former commercial pilot and accomplished entrepreneur. Bonita Platinum is an ultra-premium luxury brand; the world's only five-times distilled tequila. For more information on the Bonita Spirits Company, please visit http://www.bonitaspirits.com
Xzibit (Alvin Joiner) is a multiplatinum recording artist, actor and television personality, born in Detroit, Michigan, where he began rapping at a young age. He went on to build a solid career with projects alongside such big names as Eminem and Snoop Dogg. Already well-established and critically acclaimed, Xzibit was recruited by famed producer Dr. Dre to join the all-star cast of Dre 2001(1999). An accomplished actor and television host, he can also be seen in films like 8 Mile (2002), Derailed (2005) and XXX: State of the Union (2005). His newest film is Seal Team Six: The Raid on Osama bin Laden.