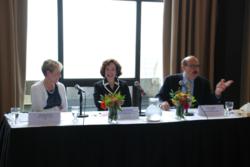 While we have known that travel brings families closer, a new study indicates that 62% of adults surveyed say their earliest memories were of family vacations taken when they were between the ages of five and ten," says Best Western's Dorothy Dowling
TORONTO (PRWEB) May 31, 2013
Travel executives from Best Western International, Hotel Association of Canada and the Canadian Automobile Association(CAA) forecast moderate steady growth in the leisure travel industry at the eight annual Leisure Travel Summit in Toronto.
With Best Western tracking a five to six percent growth in summer hotel rates and room nights for its 200 hotels in Canada, the brand is predicting a steady summer travel season. While the numbers are positive for summer travel, Dorothy Dowling, senior vice president of marketing and sales for Best Western says the 2013 calendar will impact leisure travel this summer, "With the timing of Canada Day and Labour Day this year, the numbers are not quite as strong as last year in terms of inbound American travel, but they are still moderately positive over last year."
Mobile technology and social media continue to gain traction with consumers and is changing how consumers research, book and share their travel experiences says Tony Pollard, president of the Hotel Association of Canada. "In 2006 26 percent of leisure travelers were using the internet to book travel, today it is 60 percent. In 2009 social media didn't register on our annual surveys. Today, one in four Canadians are using social media with regards to their travel." When asked how consumers are using mobile technology Dowling said, "Consumers are using mobile technology to research and plan their travel but we are not seeing this convert to bookings. We are however seeing an increase in click to call."
The benefits of multi-generational travel as well as its impact on the travel industry, from the types of hotel rooms required to the increased complexity in booking travel, was cited by all three panelists as a significant trend impacting the travel industry. "While we have known that travel brings families closer, a recent study by the U.S. Travel Association, traveleffect.com, validates those beliefs," says Dowling. "One of the statistics that I found most compelling is that 62 percent of adults surveyed say their earliest memories were of family vacations taken when they were between the ages of five and ten."
The impact of boomers on travel is not a new story, but one that continues to gain momentum across the travel industry, noted Brenda Kyllo, CAA vice president of travel. "Fortunately for the travel industry boomers are social animals and they like to travel in packs. They like to travel with groups of friends and family to celebrate holidays and special occasions which has lead to the increase we see in multi-generational travel, women's tours and themed tours." One of the newest traveling groups is an interesting mix of boomers and women called PANKS, Professional Aunts with No Kids. "PANKS are professional women who have built up their resources and chose to take their nieces and nephews on vacations," added Kyllo.
One of the trends that Best Western has been tracking for a number of years, which is now coming to the forefront in the travel industry, is the power of women says Dowling. "The 'she-conomy,' is about the power of women as decision makers. Seventy-five percent of the wealth in North America is controlled by women because they control not only their money, but that of their husbands and parents. Women are the decision makers when it comes to both leisure and business travel spending. At Best Western, this is something we are very aware of and have structured our programs and promotions to speak directly to women."
All three panelists agree that tourism is key to economic growth in Canada. While the Canadian government has made some inroads in attracting tourism to Canada by investing in visa processing, new air access agreements with places like Brazil and improving the border infrastructure, there is a lack of funding to market Canada according to Pollard. "The Canadian Tourism Commission budget to market Canada has gone from $100 million two years ago to $52 million this year. This has resulted in a $17.2 billion travel deficit because Canadians are leaving the country to travel internationally. In addition, 80 percent of the usage of hotel rooms in Canada is from the domestic market. We have to increase inbound travel," stated Pollard.
"Working with the Canadian Chamber of Commerce, the Hotel Association of Canada is launching a grassroots campaign this June to communicate with members of parliament the importance of travel to the Canadian economy and the need for funding to market Canada globally," Pollard added.
ABOUT BEST WESTERN INTERNATIONAL, INC.
Best Western International, Inc., headquartered in Phoenix, Ariz., is a privately held hotel brand made up of more than 4,000* BEST WESTERN®, BEST WESTERN PLUS® and BEST WESTERN PREMIER® hotels in more than 100* countries and territories worldwide. Now celebrating 67 years of hospitality, Best Western welcomes hundreds of thousands of guests nightly. Best Western provides its hoteliers with global operational, sales, marketing and promotional support, and online and mobile booking capabilities. More than 15 million travelers are members of the brand's award-winning loyalty program Best Western Rewards®, one of the few programs in which members earn points that never expire and can be redeemed at any Best Western hotel worldwide. The brand's partnerships with AAA/CAA, race car driver Michael Waltrip, and Harley-Davidson® provide travelers with exciting ways to interact with the brand. In 2012, Best Western won a record number of awards, including AAA's Hotel Partner of the Year, CAA's Partner of the Year, TravelClick's eMarketer of the Year and Compuware's Best of the Web Gold awards.
For more information or to make a reservation, please visit bestwestern.com.
*Numbers are approximate and can fluctuate.
ABOUT CAA
The Canadian Automobile Association (CAA) is one of the largest consumer-based organizations in Canada. We help provide freedom and peace of mind to over 5.8 million Members through 9 automobile Clubs and 140 offices located across the country.
CAA provides access to an impressive and ever-expanding range of innovative and reliable services that allow you to travel with confidence — wherever life happens to take you — from your own backyard to just about anywhere your heart desires.
Your CAA Club offers exceptional Emergency Roadside Service, complete Automotive and Travel Services, Member Savings and comprehensive Insurance Services. We're here for you while advocating on behalf of Canada's travelling public.
ABOUT Hotel Association of Canada
The Hotel Association of Canada is the national voice and resource for the Hotel and Lodging Industry in Canada. For 100 years, we have worked to enhance the prosperity of the Canadian Hotel and Lodging Industry though strong member engagements, effective government advocacy, and the provision of value added programs and services.
###