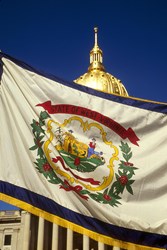 Additional activities are planned in Wheeling, which served as the state's first capital.
Charleston W. VA (PRWEB) May 31, 2013
The Civil War was one of the pivotal events in the history of the United States, one that determined once and for all the question of slavery and strengthened the role of the federal government. For Virginians, the 1861-1865 conflict was momentous for another event – the rending of Virginia into two parts, east and west, and the formation of a new state called West Virginia.
On June 20, West Virginia will celebrate its 150th birthday. It is a momentous occasion for the Mountain State – the only state born of the Civil War, and designated by proclamation from President Abraham Lincoln. Residents and communities from all over the state are gearing up for individual and joint celebrations.
West Virginia Gov. Earl Ray Tomblin will host the main festivities at the State Capitol in Charleston, beginning with a statewide bell ringing on June 20 and ending with the performance of "Civil War," the Broadway musical on June 23. Fireworks will close each night's festivities.
Additional activities are planned in Wheeling, which served as the state's first capital, as well as throughout the state, at West Virginia State Parks and Forests, in Main Street Communities and at Welcome Centers off the interstates.
On June 20, the state will receive a special birthday gift from the U.S. Postal Service, which is releasing a new Forever stamp depicting West Virginia's mountains. A special-issue sesquicentennial silver coin already is sold out, but other mementos, including hats and keychains, can be ordered from the West Virginia Sesquicentennial Commission's website.
Blenko Glass, one of the state's oldest glass manufacturers, has unveiled a limited-edition commemorative vase to celebrate West Virginia's 150th anniversary. The vase is decorated with ornate heart designs on ice blue glass. Blenko will make 150 of the 11-inch vases. They will be available for $160 and go on sale June 22.
For more information about West Virginia's history, visit the West Virginia Division of Tourism's website on statehood.
Visit the Sesquicentennial Commission for more information on celebrations taking place throughout West Virginia.