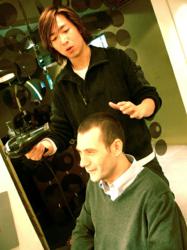 Scottsdale, AZ (PRWEB) May 31, 2013
According to Professional Consultants and Resources (PCR), salon services and retail products increased 4.1 percent to over $75 billion last year.
This statistic is great news for salon owners, as it presents the perfect opportunity to grow their businesses.
"The professional salon/spa industry remains resilient," said Steve Sleeper, executive director of the Professional Beauty Association. "Overall indicators and feedback from beauty professionals across the country continue to be positive, and we hope to see additional growth in the near future."
Growing demand for services, however, also means greater competition.
Here are four tips to pass the competition and cash in on this growing trend:
1. Enhance your online presence.
Salon Web sites and social media pages are vital in attracting new customers and engaging current ones.
"Your Web site, Facebook and Twitter pages should be the 'go-to' spots to learn about your services and make purchases," said Bob La Loggia, CEO of Appointment-Plus salon scheduling software. "It's the ideal place to advertise your specials and communicate with current and prospective clients."
Salons that add an online scheduling component to their Web site and social media pages keep their businesses open 24/7 with convenient self-scheduling.
2. Beat your competitors' prices.
The best way to attract new customers and keep current ones loyal is with great prices. Research local competitors and beat their advertised pricing.
Be sure to market these savings on your Web site, social media pages and email newsletters.
3. Expand your product selection.
PCR reported that sales of specialty products grew 9.7 percent last year. Take advantage of this trend by expanding your product inventory.
If you use online scheduling software, considering adding a Point-of-Sale (POS) module to process transactions and collect payments.
4. Offer trendy services.
Today's salon customer demand more options than the traditional haircut and wash. To stay competitive, your salon must offer trendy services that will attract and keep customers.
"The professional beauty industry is strongly evolving," said Cyrus Bulsara, president of PCR.
Among the trends he cited were keratin and smoothing services.
Learn how Appointment-Plus salon scheduling software can help grow your business. Schedule a free guided tour. Call 800-988-0061. Visit http://www.appointment-plus.com.
About Appointment-Plus: Appointment-Plus is the leading provider of online scheduling software for salons. It offers customer self-scheduling, reminder notifications that reduce no-shows by 70 percent, and efficient POS functionality. It integrates with Google and Outlook calendars.