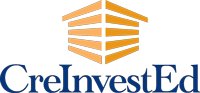 Everyone today wants the information fast, but with access to a live person. That's why we've bundled our online course with live one-on-one interaction.
Boston, Massachusetts (PRWEB) May 31, 2013
Boston-based CreInvestEd launched a new bundle with its "Start with Finding the Deal" commercial real estate investing course. All new students that take the online course will get two hours of live, one-on-one coaching with the course's author, Jeremy Cyrier, CCIM.
CreInvestEd's site, founded by Jeremy Cyrier, CCIM, well-known author, senior CCIM instructor, investor, and brokerage company owner, who has trained some of the country's top real estate professionals from Walmart, McDonald's, Walgreens, CVS, CBRE, and even the U.S. State Department in cities across the United States, is a resource for commercial real estate investors seeking education, information, insider tips, access to online investing courses, and real estate coaching.
About CreInvestEd
CreInvestEd, the nation's leading trainer on how to invest in commercial real estate, provides free investing tips, real estate coaching and has recently released its latest 10 module online investing course entitled "Start with Finding the Deal: How to Build a Steady Flow of Investment Opportunities Fast."