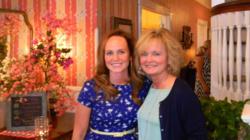 I didn't realize that my lack of hearing was the reason I always felt frustrated engaging in conversations or watching TV because I had gotten so used to this way of living.
Atlanta, Georgia (PRWEB) May 31, 2013
Kay Chapman, a 61 year old woman living in Atlanta, suffered from long term hearing loss that made her relationship with her loved ones stressed and life's simple joys of conversation difficult.
"I didn't realize that my lack of hearing was the reason I always felt frustrated engaging in conversations or watching TV because I had gotten so used to this way of living. Not understanding half of what I was listening to left me feeling depressed! Now I live a life of joy like I've never experienced before," said Kay Chapman.
Interestingly, many individuals don't realize they suffer from hearing loss because their closest loved ones are in the same situation. For example, when Mrs. Chapman identified her hearing loss her husband also realized that he had hearing issues. "After seeing the smiles on my face after getting hearing aids, my husband Mike, got his hearing tested, got fitted with a Phonak, and now he doesn't talk so loud, doesn't blast the TV and can hear others in restaurants," said Mrs. Chapman.
Hearing loss in children and people of all ages can affect them in largely varying degrees. Some patients like Mrs. Chapman suffer hearing loss in both ears. She happens to have a Phonak behind-the-ear hearing aid in one ear and Baha bone-in sound processor for the other ear. However, every patient has a unique situation that has to be analyzed during a hearing test by a qualified Audiologist in Atlanta such as Dr. Lindsay Lanson of the Atlanta Hearing Institute.
Take the situation of Kathryn Lott, a 26 year old woman who relocated from Colorado to Atlanta. "I started noticing hearing loss a little over a year ago. I moved back to Georgia from Colorado where I frequently experienced a change in elevation," said Ms. Lott. "The only reason we realized that I had a problem with my hearing, was because I kept asking to turn the TV volume up. At that point, we realized that something was not normal and I need to visit an audiologist."
Ms. Lott experienced sudden onset hearing loss at age 25, but the doctors at the Atlanta Hearing Institute were able to quickly assess her situation and provide a long term solution for her hearing. She received Phonak hearing aids from the Atlanta Hearing Institute. "My hearing has been a challenge daily. I am 26 years old and need the hearing aids of a 75 year old. That has been a hard pill to swallow," said Ms. Lott. "But, I am more than grateful to be able to have these hearing aids and they do help tremendously."
In addition, Ms. Lott commented on her experience with the physicians at the Atlanta Hearing Institute, "I could not be more pleased with my experience with Dr. Lanson and Dr. Cerenko. From my initial diagnosis of 'we don't know why this is happening', to my septoplasty surgery to help with my deviated septum, to learning that having surgery helped with my word clarity...they have been absolutely wonderful along the way," said Ms. Lott. "There have been multiple times that I have been in their office on a whim just because 'something is not right.' In those cases, if Dr. Cerenko was not available, Dr. Lanson has been able to get me in to see one of the other talented doctors at the Atlanta Hearing Institute."
Like Mrs. Chapman, Kathryn Lott was not the only member of the family with hearing issues. Kathryn's dad, Robert Lott, also noticed he was suffering from hearing loss. She says, "We are completely confident in the skills of the Doctors at the Atlanta Hearing Institute. I will continue to recommend them to everyone who is in need of an Ear, Nose & Throat Doctor! My dad, Robert Lott is a regular patient of Dr. Free. Dr. Free performed my dad's septoplasty surgery."
Acknowledging hearing loss is important and can be tricky at times as not all sounds are registered the same in the ear. It may be possible to hear some things perfectly, while other sounds are muffled or drowned out by background noise.
Even if an individual's hearing is fine, some major indicators of hearing loss include:

Frequently asking people to repeat themselves.
Tilting or turning head to attempt to improve hearing.
Understanding people better when wearing glasses or looking directly at their faces.
Difficulty following group conversations.
Keeping the volume on the radio or TV at a level that others say is too loud.
Having pain or ringing in the ears.
Noticing that some sounds remain clear (often low-pitched sounds such as the bass line in music) while others may seem fuzzy (frequently women's and children's high-pitched voices).
" If it is determined that you are indeed experiencing hearing loss, there are some simple actions you can take that may help. The first thing you want to do is take the proper steps to ensure your hearing doesn't deteriorate any further. Have your hearing evaluated by an audiologist or hearing specialist, and then discuss possible treatment options based on your degree of hearing loss. Hearing aids are great for even slight hearing loss and can help prevent further damage. Personal listening systems can help single out noises or reduce background sounds to sharpen your hearing," says Lindsay Lanson, one of the primary audiologists at the Atlanta Hearing Institute.
These individuals' hearing loss is not uncommon and can be debilitating when someone learns to live with less than quality hearing. "Since getting my hearing aids, my mood and self-esteem has been tremendously lifted," says a happy Kay Chapman.
According to Mrs. Chapman, "Dr. Lindsay Lanson, Audiologist, and Dr. Danko Cerenko are the most skilled and professional experts that I've dealt with in my 56 years of hearing loss! If I notice that someone is having a hard time hearing, I tell them about my positive experience at the Atlanta Hearing Institute, and tell that person to give the AHI a call. I always say it will change their life!" Hearing loss is treatable and getting help is the most important precaution to take.
"Dr. Lanson is so knowledgeable about hearing aid products, so with her patience, she tailored my hearing aids so that I had the best outcome possible," said Mrs. Chapman. "And Dr. Cerenko, whom I consider my "hero", not only has impressive skills as a surgeon and a vast education in his specialized field, he has the ability to provide compassionate care."
About Atlanta Hearing Institute
At the Atlanta Hearing Institute you can expect a complete and thorough Atlanta hearing evaluation by a Doctor of Audiology. This is the first step in determining the technology you or your children need to maximize your individual communication abilities. Appropriate hearing technologies will be demonstrated to you in the office. We believe "hearing" the technology in action is important!
Choosing an Atlanta hearing specialist is an important decision but it doesn't have to be a difficult one. We are experts in the latest amplification technology including state of the art hearing aids and implantable devices such as BAHA and Cochlear implant hearing aids. We are also leading the way in introducing the newest surgically implantable hearing device, the Maxum. The Maxum hearing implant is an excellent option for those considering surgical hearing solutions beyond the traditional hearing aid. It is an FDA approved device for moderately severe to severe hearing loss since 2011.
For patients that experience "ringing of the ears" or other subjective sounds known as tinnitus, our facility is leading the way in Atlanta hearing treatment. Our new combination hearing aids infuse hearing aid technology with tinnitus management maskers for relief from ringing ears. This technology creates an environment where the tinnitus is reduced and controlled, while the hearing aid portion provides crisp and clear understanding.
Phonak Hearing Aids such at the Lyric are completely unseen, placed in the ear canal. The Naída Q detects the wind noise and automatically focuses on a single voice during conversations. The Audéo Q uses TVLink to connect to televisions for unparalleled experiences. The Virto Q, uses Binaural VoiceStream Technology, to connect to telephones and has Sound relax for thundering silence during sleep. In fact, a lot of these benefits are offered on each hearing aid model listed above.
Our hearing doctors continue to provide exceptional hearing treatment in Atlanta, and relief to Atlanta children with hearing loss. We are committed to providing the highest quality in hearing healthcare. We adhere to the best practice guidelines and code of ethics established by the American Academy of Audiology.
Your hearing specialists are always here to help:
Lindsay Lanson, Au.D., CCC-A
Jocelyn Sysko, Au.D., CCC-A
Anesheia Prince, Au.D., CCC-A
Doctors of Audiology, certified by the American Speech Language, Hearing Association and Fellows of the American Academy of Audiology.
For More Information and appointments.
Call: 770-991-2800 or visit AtlantaHearingInstitute.com