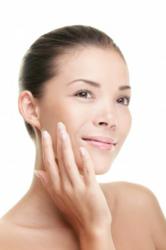 After I found Relumins, I immediately found successful natural solutions for my condition. I know my melasma will never go away completely, but now I feel confident knowing it is under control" – says Monqiue
Asbury Park, NJ (PRWEB) May 31, 2013
There is new hope for the millions of women who are affected by melasma. Melasma is a common skin pigmentation condition, sometimes referred to as the "Mask of Pregnancy." It affects 45-50 million women worldwide at a very emotional stage of their life. Pregnant women experience increased estrogen, progesterone, and melanocyte-stimulating hormone (MSH) levels during the second and third trimesters of pregnancy which can trigger melasma outbreaks. Melasma is a very common patchy brown, tan, or blue-gray facial skin discoloration. It typically appears on the upper cheeks, upper lip, forehead, and chin of women between 20-50 years of age.
Now, Relumins Labs, a New Jersey based skin care company specializing in natural solutions for difficult skin problems has launched a new line of topical and oral products designed to safely lighten melasma and improve the appearance of even severely hyperpigmented areas. The products feature pharmaceutical grade natural ingredients for general skin rejuvenation and brightening such as Glutathione, Kojic acid, Arbutin and Licorice which have been found to be powerful antioxidants and anti-inflammatory agents used to battle hyperpigmentation.
The management of melasma is challenging and sometimes requires a long-term treatment plan. Melasma used to be treated with harsh chemical peels, dangerous Hydroquinone and invasive various lasers or intense pulse light sources. Products or treatments like these can irritate or damage the skin and may cause an increase in melanin production and accelerate melasma symptoms. Recently the search for safer alternatives has given rise to the development of many newer agents, several of them from natural sources. People who are affected by melasma no longer have to seek dangerous treatments which sometimes can amplify the discoloration.
"Before, I found the Relumins website, I was spending thousands of dollars consulting with various dermatologists, and trying painful chemical peels. It was emotionally draining! After I found Relumins, I immediately found successful natural solutions for my condition. I know my melasma will never go away completely, but now I feel confident knowing it is under control," says Monqiue, who has been fighting melasma since her teens.
When treating Melasma, discontinuation of oral pills especially contraceptives and avoidance of scented cosmetics is highly advised. It is important for anyone to take preventive measures, including avoiding sun exposure and application of extra sunblock to avoid stimulating pigment production which can lead to a melsama breakout.
For millions of women, these natural alternatives allow them to live their lives without a mask. Although there is no cure, having at home alternatives gives women a sense of normal compared to the helplessness previous treatments have offered.
Relumins products can be found at various fine retail outlets, including Amazon, Ebay, and Flawless Beauty and Skin by Sweet Suzzy.