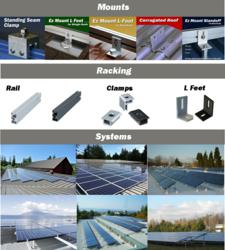 "Sunmodo is committed to investing their resources to support and enhance the community's sustainability."
VANCOUVER, WA (PRWEB) May 31, 2013
SunModo Corp., a leading racking and mounting solutions provider for solar power systems, announced today that Sunmodo will be exhibiting at the MREA (Midwest Renewable Energy Association) Energy Fair in Custer, WI on June 21-23.
Each year the MREA Energy Fair transforms rural Central Wisconsin into the global hot spot for renewable energy education. The nation's longest running energy education event of its kind, the Energy Fair has been a leader in renewable energy and sustainable living education, bringing over 20,000 people from nearly every state in the U.S. and several countries around the world.
Karry Yoerger, Sales Director of Sunmodo said, "Sunmodo is excited to be part of this leading renewable energy and sustainable living education event. Sunmodo has been actively participated in the outreach program of various solar organizations to help educate the public on the benefits of solar energy. We are committed to investing our resources to support and enhance our community's sustainability. "
Come see us at Booth 103 and discover how Sunmodo can help you minimize your total cost of solar PV systems in a smarter way. For those DIY consumers that cannot find our EZ mount series and other products locally, go to Sunmodo online store to place an order. For professional installers looking for innovative and cost effective racking solutions, contact our sales team and we will get you started immediately.
We look forward to seeing you at the MREA Energy Fair this year!
The Sunmodo Team