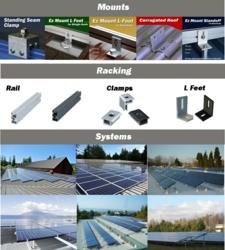 We utilized Sunmodo's EZ roof mounts for the GRTHA installations as we feel this is the best composite roofing mounting system on the market today.
Vancouver, Washington (PRWEB) May 31, 2013
SunModo Corp., a leading racking and mounting solutions provider for solar power systems, is proud to partner with Solar Options NW and The Grand Ronde Tribal Housing Authority (GRTHA) on the Grand Ronde Tribal Project in Oregon.
The Confederated Tribes of the Grand Ronde Community of Oregon consists of 27 Native American tribes with long historical ties to present-day Western Oregon. The Tribal Housing Authority authorized the building of 23 residences for Elder Tribal Members. The residences were built on Tribal property next to an existing housing complex and were made up of 10 duplexes and one triplex. The challenge of the project was to find appropriate solar panel mounting surfaces which would qualify for Energy Trust of Oregon's (ETO's) solar resource requirements. Ultimately, SunModo was selected as the racking solution provider for the project because of the versatility and ease of installation of its roof mounting systems.
Collaborating with various suppliers, SunModo was able to provide Solar Options NW with SunModo's roof mount racking solution to meet the requirement for the project. "SunModo is proud to have played a significant role in making this important project a success for Solar Options NW," says Karry Yoerger, SunModo's Sales Director, "We are confident that Solar Options NW will continue to be a key partner for us in the future."
Bob Aman, owner of Solar Options NW, said, "Solar Options NW has been incorporating SunModo solar mounting systems in their projects over the past three years. SunModo provides a very competitive product, they are local to our service region, their service has been outstanding and the products are well designed and will stand the test of time. We utilized the EZ roof mounts for the GRTHA installations as we feel this is the best composite roofing mounting system on the market today. Rapid to install, sound engineering design, robust flashing and sealing and very adaptable to the variations installers are faced with on residential roofs.
About SunModo, Corp.:
SunModo, a Washington based solar panel mounting company, was formed with the mission of providing the best value solar racking and mounting solutions for solar power systems. Founded by highly skilled engineers, SunModo has quickly become known as a high quality provider of cost effective solar mounting products and its products are known for their quality, ease of installation, and affordability. For more information, visit http://www.sunmodo.com
About Solar Options Northwest LLC:
Solar Options Northwest LLC was formed in 2010 by two former HP Professionals who wanted to help develop and deploy solar electric in Oregon's Willamette Valley. The goal of the company is to educate all interested Oregonians as to the viability of solar electric systems even in Western Oregon's somewhat wet and grey perception. Western Oregon's solar resource is far greater than Germany's and yet Germany's installed base of photovoltaic modules is larger than any other country in the world.