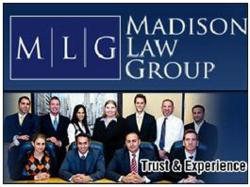 Los Angeles, CA (PRWEB) May 31, 2013
Reputable Los Angeles personal injury law practice, Madison Law Group are now pleased to offer complimentary case assessments. This allows potential clients to understand the potential of their case without committing to a payment.
If an individual has been injured at no fault of their own, there may be someone else who is liable for the costs associated with that injury. Not every case is open and shut though, which means not every case is winnable for the victim. By using the services of an accident injury attorney though, victims can increase their odds of winning a settlement by quite a bit. Because victims cannot be sure whether or not they have a sound case, Madison Law Group offers free case assessments. This allows them to become familiar with the details of the case in order to find out if it is a good one to take. It also allows potential clients to see what kinds of costs legal services might have.
Madison Law Group has several slip and fall lawyers who are experts when it comes to injury cases. They have experience with everything from spinal cord injuries to dog bite injuries. In fact, their experience has led them to win "over $100 million in settlements" for their clients.
About Madison Law Group
Located in Los Angeles, California, Madison Law Group is made up of a team of slip and fall attorneys who specialize in injury settlements and claim litigations. They feature a no win, no pay policy as well as their complimentary case assessments. They use diligence and compassion to make every client a priority and every case a success. Although they specialize in injury cases, they are not limited to that practice area. For further detail please visit, http://www.madisonlawgroup.com/.