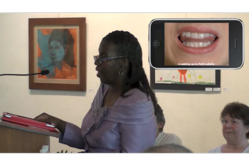 Baltimore, MD (PRWEB) May 31, 2013
Stroke can happen to anyone, anywhere, any time. Each year, approximately 795,000 individuals suffer strokes and about one-third of these individuals are diagnosed with aphasia. Aphasia is derived from the Greek word for "speechlessness". It occurs when a stroke affects the region of the brain that is responsible for language. The damage may affect the individual's speaking, reading, writing and/or language comprehension. The effects of aphasia on communication can be devastating. Some survivors are unable to speak at all. Others cannot understand speech and must navigate the world as if they are living in a country where conversations and written documents elude them.
Fortunately advances in technology are providing new opportunities for people with aphasia to speak up. Individuals with aphasia who attend the Snyder Center for Aphasia Life Enhancement (SCALE), a community treatment center in Baltimore, Maryland, are dispelling the notion that they are unable to advocate for themselves. Members who attend the center use an array of technologies that enable them to express their thoughts and reveal their competencies and during stroke awareness month, they intend to be heard.
Forty members with aphasia who attend SCALE decided to increase awareness about aphasia in Baltimore through the arts. On May 4th, SCALE hosted a play about aphasia entitled, Night Sky. The SCALE community partnered with The Hugh Gregory Gallagher Motivational Theatre, a non-profit organization that raises public awareness of disability issues and discrimination in our society through dramatizations of real-life and fictionalized experiences. SCALE members invited the group to perform Night Sky to their friends, neighbors and folks from the larger community. Despite severe communication impairments they sold tickets, wrote presentations and presented to over 135 guests.
Several SCALE members used the VAST program to enable them to fluently present the materials they had written at the event. The VAST program is an innovative research based application of video technology designed to facilitate and improve communication abilities for speech-impaired individuals. Following close-up video of mouth movements combined with visual and auditory cues allows individuals to readily produce speech. SpeakinMotion has made this approach available to individuals with motor speech disorders such as aphasia and apraxia through its speech therapy apps and custom recording service.
Creating their messages and practicing with their custom VAST videos requires weeks of preparation and hard work by stroke survivors with aphasia. But, the hard work pays off when they are able to deliver their unique messages themselves to advocate for themselves and to educate the public about the effects of stroke on communication and quality of life. Roz, a member of SCALE with aphasia, struggled early on with the speech for the event without the support of her VAST video. But, as the video in the link below shows, with the help of her VAST video, she progressed from single words/ short phrases to fluently delivering her welcome speech at the event.
Watch Roz's impressive progression from single words to fluently delivering her speech!