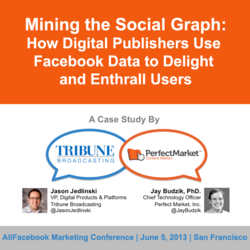 Pasadena, CA (PRWEB) May 31, 2013
Perfect Market, Inc., the leading provider of digital publishing software solutions for premium publishers, today announced that Jason Jedlinski, VP of Digital Products and Platforms at Tribune Broadcasting, and Dr. Jay Budzik, Chief Technology Officer at Perfect Market, will be presenting a case study on "Mining the Social Graph: How Digital Publishers Use Facebook Data to Delight and Enthrall Readers" at the AllFacebook Marketing Conference. The panel will be held on Wednesday, June 5, 2013 at 4:00PM at the Hilton San Francisco Union Square Hotel. To register, please visit the conference website.
Perfect Market and Tribune Broadcasting partnered in late 2012 to develop a new social media product that would optimize sharing and increase Facebook referral traffic. The product, Perfect Social, was developed and tested using KTLA.com as the first beta site. Facebook referral traffic to KTLA.com nearly doubled during the beta period. As a result, Perfect Social was expanded across the rest of the Tribune Broadcasting station websites.
In this case study presentation at AllFacebook, Tribune and Perfect Market will discuss how they utilized Facebook data to optimize content and sharing recommendations on a user-by-user level, to create high-impact experiences that produce meaningful results.
"Tribune Broadcasting is committed to using innovative technology and strategies to deliver the best possible content experience to consumers and advertisers alike," said Tribune's Jedlinski, "By partnering with Perfect Market, we are able to provide our audience an enhanced social experience: one that also effectively extends the reach of our original, local content."
"Publishers are starting to see that it's not enough to just make sharing an available feature," said Perfect Market's Budzik. "Perfect Social makes each share more valuable by targeting the right users with the right content, which increases engagement within Facebook and the publisher site."
"When it comes to social media success and leveraging Facebook to better connect with customers and improve your ROI, nothing beats AllFacebook Marketing Conference for bringing together all the latest tools and expertise at a level of detail you won't find anywhere else," said Stewart Quealy, Director of Content, Events & Conferences at MediaBistro. "We are especially pleased to have Tribune Broadcasting and Perfect Market participating and look forward to the practitioner perspective they contribute to the event."
About Perfect Market
Perfect Market, Inc. is the leading provider of digital publishing software solutions for driving traffic, engagement and revenue. Its products and services are utilized by over 200 premium publishers, including Los Angeles Times, Chicago Tribune, NBC News, Mediaite and Business Insider. Perfect Market's primary product offering is the Digital Publishing Suite, a comprehensive set of tools that address content recirculation, social discovery, search engine optimization, on-site promotions and ad optimization. Perfect Market also offers Audience Development Consulting Services for publishers looking to further enhance our software solutions. Perfect Market is headquartered in Pasadena, California, with offices in New York City, San Francisco and Bangalore, India.
About Tribune Company
TRIBUNE is one of the country's leading multimedia companies, operating businesses in publishing, digital and broadcasting. In publishing, Tribune's leading daily newspapers include the Los Angeles Times, Chicago Tribune, The Baltimore Sun, Sun Sentinel (South Florida), Orlando Sentinel, Hartford Courant, The Morning Call and Daily Press. The company's broadcasting group operates 23 television stations, WGN America on national cable, the national multicast network Antenna TV and Chicago's WGN-AM. Popular news and information websites complement Tribune's print and broadcast properties and extend the company's nationwide audience.
About AllFacebook Marketing Conference
AllFacebook Marketing Conference provides attendees with an inside look at Facebook innovations and monetization issues impacting today's digital media and marketing experts. Fostering a highly interactive, deep-dive learning environment, the event is designed for attendees to take home the latest intelligence, how-to knowledge, and real-world examples to yield actionable next steps. Attendees will explore effective strategies and tactics for acquiring fans, engaging followers, and amplifying campaigns.