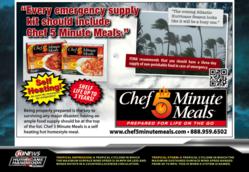 Johnson City, TN (PRWEB) May 31, 2013
Chef Minute Meals Inc. has partnered up with 10NEWS in Tampa Bay, Florida to spread the word to as many residents as possible about the importance of being prepared for the upcoming hurricane season. The 2013 Hurricane Handbook is published by 10NEWS and distributed throughout the Tampa Bay area (Population 346,000+). This is an area that has great potential of being in the path of major storms this year.
"The 2013 hurricane season, which begins June 1, could be extremely active, with the National Oceanic and Atmospheric Administration's Climate Prediction Center issuing a preseason Atlantic hurricane forecast Thursday that calls for 13 to 20 named storms, including seven to eleven hurricanes. Of those, three to six could be major hurricanes, Category three and above, with winds above 111 mph." -- NOLA.com | Times-Picayune environment writer
Those ranges are well above the seasonal averages of twelve named storms, six hurricanes and three major hurricanes.
Hurricanes Isaac and Sandy fresh in the memories of coastal residents and given the more recent tornados that devastated Oklahoma the country is paying close attention to the weather as the summer kicks into high gear.
Chef 5 Minute Meals has consistently been a first responder in natural disaster relief efforts including Hurricanes Sandy and Isaac. As of January 2013 they have launched an aggressive ad campaign to help draw awareness to the importance of natural disaster preparedness, including attendance of the 2013 Governor's Hurricane Conference in Ft. Lauderdale, Florida.
Chef Minute Meals Inc. is a socially responsible and forward-thinking company providing the public with a wide range of self-heating, shelf-stable meals and snacks. Their head office and factory, USDA certified, is located in Johnson City, TN where they are constantly in development of meal products that are valued for their high quality taste and excellent nutritional content, as exemplified by our core product the Chef 5 Minute Meals™.