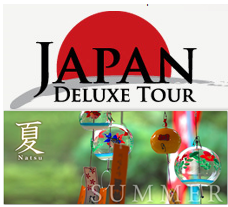 "It gives us extreme pleasure to provide visitors from all over the world with a comprehensive birds-eye view of Japan's magnificent landscape, but also to the beauty of the country's ceremonies," the company rep concluded
Los Angeles, CA (PRWEB) May 31, 2013
Japan Deluxe Tour Operator, an established U.S. based full service travel company is kicking off early summer booking promotion by providing travelers with one extra day, free of charge, all expenses included. The offer is available upon early booking for July-August tours.
"The deal starts with our Gion Festival Tour on July 12 and will be available to all clients who book a tour with us up to August 20," said Yuki Koguchi, a company representative.
The tour operator has established a reputation of providing the most informative, enjoyable and overall best Japan tours. These luxury packages include all the comforts and amenities necessary to turn every sojourn into an unforgettable experience.
Those willing to sit back and enjoy the exclusive natural beauties Japan has to offer throughout the summer can now do so for one more day. The offer includes all hotel change fees for either the first pre-tour night or the last night and other expenses, with the exception of airport-hotel transportation.
The five all inclusive tours featured in the promotion will contain a full Japan itinerary. The highlight is the famous Golden Route Tour, a six-day package with stops throughout the country's landmark locations, from Kyoto to Mount Fuji and Tokyo. As per the tourists' preference, accommodation can be provided in both Japanese-style and Western-style hotels. For those willing to uncover Japan's secrets more at length, there is the seven-day tour covering Hiroshima, as well.
"This is the perfect itinerary in perfect weather and it includes all must-sees in one package. Visitors will have the unique chance of witnessing the beauty of Japan's nature on display in the Hakone National Park. The experience also includes the traditional Green Tea Ceremony and a fantastic bullet train ride," Koguchi added.
Early bookers can also take an advantage of the Gion Festival Tour kicking off in July, a unique traditional experience for any traveler unaccustomed with Kyoto's spectacular Matsuri Festival. The tour also includes a longer variant that features a one-day visit to Hiroshima and surrounding Miyajima-Itsukushima Shrine where is UNESCO World Heritage sites.
"It gives us extreme pleasure to provide visitors from all over the world with a comprehensive birds-eye view of Japan's magnificent landscape, but also to the beauty of the country's ceremonies," the company rep concluded.
About Japan Deluxe Tour
Founded 31 years ago, Japan Deluxe Tours now provides the most comprehensive Japan guided tours that have garnered praise from thousands of US and worldwide travelers. The core values promoted by the company include providing people an entirely authentic experience and for this reason, the travel agency employs only staff with an unparalleled knowledge of the country. The company is licensed by ARC and IATA. For more information on Japan Deluxe Tours, visit http://www.japandeluxetour.com/.