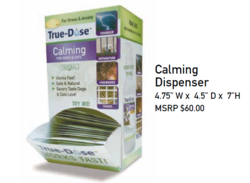 We're confident customers will see how effective Calming is in bringing relief to their pets that they'll decide to purchase the full-size product.
St. Louis, MO (PRWEB) May 31, 2013
True-Dose Pets is excited to announce a new way to purchase our popular Calming natural pet supplement. True-Dose is launching trial-size packets, to allow new customers to try Calming before committing to the full product size.
"We want to be able to build customers' trust and prove we're the best before they purchase the full-size product," said True-Dose founder Joe Wayman. "We're confident customers will see how effective Calming is in bringing relief to their pets that they'll decide to purchase the full-size product."
The new True-Dose Calming trial size costs $1.99 and contains two disposable pouches of the natural pet supplement. The product is displayed in a small, colorful dispenser that will sit on the counter or at the register in retail locations where True-Dose products are sold. True-Dose has found that stores already utilizing the Calming Dispenser are selling True-Dose four times faster than retailers without the dispenser.
Full-sized bottles of True-Dose Calming cost $19.99 each. This all-natural Calming supplement contains chamomile, valerian extracts, ginger extracts and tryptophan. True-Dose Calming's unique liquid delivery method guarantees maximum absorption and effectiveness, and this product has been shown to work within 15 minutes of consumption.
True-Dose Calming has proven effective for helping both canines and felines overcome anxiety and stress from a variety of stressors, including thunderstorms, fireworks, separation anxiety, travel, moving or house guests. Because pets are so sensitive to their environments, changes can lead them to act out and become withdrawn, clingy or aggressive. True-Dose Calming is a natural way to help ease your pet's discomfort.
Visit the True-Dose website to find a retailer near you: http://true-dose.com/store-locator/.
About True-Dose
True-Dose, headquartered in St. Louis, MO, uses a patented system to produce high-quality natural supplements for canines and felines. Their product line addresses joint care, skin and coat care, calming, wellness and dental care. True-Dose supplements are manufactured in a human-grade pharmaceutical facility, following the same strict testing and quality standards mandated by the FDA for state-of-the-art pharmaceutical product manufacturing. Their raw ingredients are certified and tested to ensure they meet strict quality standards. The founders of True-Dose have long had the goal of providing human-quality, pharmaceutical-grade products to our four-legged friends.
"All of our products are sourced and tested to human standards and manufactured in a pharmaceutical facility," said Joe Wayman, Founder and President of True-Dose. "Our goal with responsible sourcing is to ensure the same quality for pets that we expect for humans. Pets have now established themselves as part of the family, often considered to be like one of the children. True-Dose has a mission of better companion animal health with the understanding that pets have a tremendous impact on both the mental and physical health of humans."
True-Dose ensures quality ingredients as well as accuracy and ease of dosage. True-Dose products have been clinically proven to have faster absorption rates and higher peak concentrations than tablets and chewables in a head-to-head crossover study conducted by the Oklahoma State University Veterinary Animal Science and Research Departments.