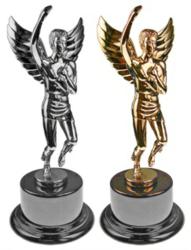 The Hermes Creative Awards recognizes creative excellence in international advertising and marketing companies.
Seattle, WA (PRWEB) May 31, 2013
efelle media is an established web design firm located in Downtown Seattle. Supporting hundreds of clients nationwide, the firm is comprised of a full in-house team of internet marketing professionals, educated and experienced web designers and developers, and support staff. efelle media empowers clients with FusionCMS, a website content management and online marketing platform that improves organic SEO.
Earlier this year, efelle media's medical website design for client Bellevue Plastic Surgeons and two of their eCommerce website designs, for Phil Barone and Elki Gourmet, were nominated for the Hermes Creative Awards. Based on the evaluation of the Hermes International Award judges, efelle media won two Platinum awards in the eCommerce website design category, and a Gold award in the Medical website design category. The Hermes Creative Awards honors the messengers and creators of traditional and emerging media.
Elki Gourmet has earned a solid reputation as a gourmet food provider with superb customer service, winning national awards for both their food products & packaging. They enlisted the help of Seattle web design firm, efelle media, to provide a new, sharp looking site, reflective of their quality, authentic products, as well as a full eCommerce solution including SEO integration.
Phil Barone is a New York-based saxophone designer, specializing in high-quality branded saxophones, mouthpieces, and necks. efelle media helped him to rebuild the eCommerce website to improve the user experience, branding, and back-end website management.
Bellevue Plastic Surgeons provides the latest and safest cosmetic procedures using the most technologically advanced equipment to give the best possible and longest lasting results. BPS hired efelle media to rebuild the business web site to better reflect their practice. They also wanted more control of content, including full photo gallery functionality, patient testimonials, and procedure information.
All powered by the FusionCMS platform, the websites provide site visitors with comprehensive listings through an easy-to-use, intuitive publishing tool built into all of efelle media's Website Development projects. FusionCMS is a Search Engine-friendly, browser-based web system that allows non-technical staff with no programming knowledge to manage the site's content from ANY internet-enabled computer, regardless of the operating system (Windows, Mac or other).
In addition to getting a stronger website content management system which allows all three companies to manage and market their sites with ease, they received a fully-branded, custom website design.
With more than 400 successfully completed custom website design and development projects under its belt, efelle media continues to work with a variety of business entities in dozens of industries, from start-ups, non-profits, and local small businesses to large national and international corporations. In addition to its professional service and ecommerce website platforms, efelle media also offers other custom online marketing solutions including web design and website content management for real estate industry professionals, medical industry professionals, membership websites, and more.
To learn more about efelle media, visit http://www.efellemedia.com.
To check out Bellevue Plastic Surgeon's new site, visit http://www.bellevueplasticsurgeons.com.
To check out Elki Gourmet's new site, visit http://www.elki.com.
To check out Phil Barone's new site, visit http://www.philbarone.com.
About efelle media
Founded in 2005, efelle media specializes in custom website design and development with an emphasis in organic search engine optimization. Over the past 8 years, efelle media has grown into a full, in-house team of web design and developers, internet marketing professionals, and production and support staff and continues to produce complete online marketing systems for clients nationwide from its Seattle offices.