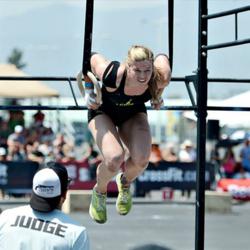 "Nothing has challenged me like Kokoro. With my newfound mental toughness, I can challenge myself physically pushing through pain from training and competitions. These tools helped during regionals and continue to help in daily life." L. Valenzuela
San Diego, CA (PRWEB) May 31, 2013
Tweet This Release: @LiftLikeLindsey Valenzuela and other @CrossFitGames Winners prep for their Wins with @SEALFIT #KokoroCamps. http://www.SEALFIT.com
Lindsey Valenzuela has been fortunate to train and win with some of the top athletes and the CrossFit elite. She says, "Anything is possible as long as you believe you can and will accomplish your dreams!". Lindesy deadlifts 365 pounds, nearly two and a half times her body weight, so she's on to something!
Said motto has taken Lindsey all the way to a First Place win in the 2013 CrossFit Games SOCAL Regionals. Training for the Games is exactly what one might imagine: strict, hard work, and disciplined. It requires your mind, body, and spirit to reach beyond your personal best. That's why Valenzuela and many other Games Winners and Extreme Athletes have looked to Mark Divine's SEALFIT Kokoro Camps to prep for competitions.
Based on the famous Navy SEAL Hell Week concept, Kokoro Camps are the world's premier training camp for forging mental toughness and the "Warrior Spirit". An intense crucible experience with hands-on learning for 50 hours over the course of a weekend. Like CrossFit, lessons learned at Kokoro are life lessons that create a new, unbeatable state of mind and a new way of orienting oneself in the world.
Continuous mental tests at Kokoro and via it's sister training, the online Unbeatable Mind Academy, allow attendees to look within their Spirit and determine how to earn their "trident". Belief that one can handle any situation mentally instills a much needed confidence and trust in self for athletic competitions and everyday situations.
Watch as Valenzuela, now a SEALFIT sponsored athlete, competes for a top three finish in the CrossFit Games World Championships at the Home Depot Center in Carson City on July 11-14. For those planning to go through Kokoro, she recommends to "be willing to undergo the biggest test of your life not only physically, but also mentally". For more information and to sign up for an upcoming Kokoro Camp or other SEALFIT trainings please visit http://www.sealfit.com.
More on Mark Divine: With an MBA from NYU Stern School of Business and a CPA in his briefcase, Mark served on active duty for nine years and in the SEAL reserves for eleven – retiring at the rank of Commander in 2011. In 1997, Mark launched his entrepreneurial career with the introduction of http://www.NavySEALs.com, the leading web site for gear and information about the SEALs. Less than 10 years later, he formed US Tactical, gaining contracts with Naval Special Warfare Group ONE for training support and the Navy Recruiting Command for the nationwide mentoring program for SEAL, SWCC, EOD and Diver candidates. On-site trainings were made possible with the creation of SEALFIT and the opening of the US CrossFit Gym, both campuses in Encinitas, CA. With mental toughness at the forefront of his work, Mark developed the Unbeatable Mind Academy, a subscription service taken by thousands around the world remotely via the internet. Mark's endeavors have a unanimous mission to elevate clients to a higher level of operating, thinking and leading – encompassing the full spectrum of human experience – Body, Mind and Spirit in Self, Team and within Organization. Overall success rates are high; Ask for testimonials and we'll show you proof of many transformed lives.