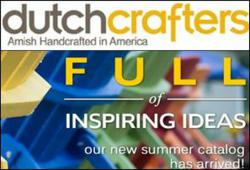 Sarasota, FL (PRWEB) May 31, 2013
DutchCrafters Amish Furniture, the popular online supplier of solid wood, Amish furniture, has announced the release of their "Amish Furniture Summer 2013" catalog. The digital catalog is free to view online and to download onto tablets. This comes as good news to people around the world seeking the latest high quality Amish made furniture available this summer through DutchCrafters.com.
The "Amish Furniture Summer 2013" catalog highlights DutchCrafters' summer assortment of fine Amish furniture for indoor, outdoor, and office use. This includes their highly praised environmentally friendly polywood patio furniture, polywood Adirondack chairs, shed kits, chicken coups, playhouses, dining room furniture, bedroom furniture, living room furniture, and more. Also included are sections dedicated to outdoor furniture made specifically from a selection of top quality pine wood, cedar wood, and cypress wood.
The catalog is designed to maximize customer experience. Each item is beautifully illuminated with high-resolution images, clear labeling, and pricing. The tablet version is available for instant download via DutchCrafters.com.
All of the furniture featured in the summer 2013 catalog is American made from expert Amish craftsman. The furniture comes exclusively from wood shops in Pennsylvania, Ohio and Indiana. Customers are encouraged to also visit DutchCrafters.com to view their entire assortment of Amish furniture.
DutchCrafters.com offers the largest selection of handcrafted, Amish made furniture on the Internet. They are highly praised for the beautiful craftsmanship on their wide variety of high quality mission style furniture, polywood furniture, country style furniture, and more. As summer 2013 fast approaches, DutchCrafters.com is proud to offer their catalog and they look forward to supplying people around the world with the most beautiful Amish furniture available this summer season and beyond.
About DutchCrafters:
Founded in 2003, DutchCrafters Amish Furniture is the largest online supplier of solid wood, American made, Amish handcrafted furniture. Their furniture is manufactured in the Amish woodshops of Pennsylvania, Ohio and Indiana. They are pioneers of utilizing the Internet to distribute Amish furniture. Their products are high quality, made with time-honored tradition, and are authentically Amish. They are committed to excellent customer service and product knowledge. They have an A+ rating with the Better Business Bureau. For more information, visit http://www.dutchcrafters.com/ or follow them on Facebook, Twitter or Google+.