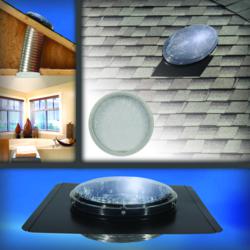 We are pleased with this expansion of our Skylight Tube line, offering a cost-effective, easy to install, compact 14" Skylight Tube. As always, U.S. Sunlight strives to offer products that allow homeowners to go green without costing them lots of green.
Incline Village, NV (PRWEB) May 31, 2013
Natural lighting has become a common remodeling project due to the numerous benefits of natural light, including mood elevation and reduced energy costs. Unfortunately, as many homeowners realize, adding in windows can put a strain on a budget for home improvement. Over the years, many homeowners have turned to skylights as effective ways to add in more light without as high of a cost as windows. Unfortunately, skylights still typically require some architectural changes to the home and can still have lower than ideal energy efficiency. For these reasons, light tunnels were developed as a low-cost, energy efficient, simple DIY project to add more natural light in the home. However, the tubular skylights also had "bubble domes" that were unattractive on the roof line. U.S. Sunlight developed a solution – the low-profile, attractive look of a skylight with the convenience, cost effectiveness and energy efficiency of a light tunnel – the U.S. Sunlight Skylight Tubes.
In spring of 2011, U.S. Sunlight released the first, low-profile, square dome Skylight Tube to create the perfect compromise between easy-to-install light tunnels and sleek skylights. With the success of the Skylight Tube, U.S. Sunlight has embarked on a complete line of Skylight Tubes for a diversity of installation needs – including home, office, and warehouse purposes.
New for 2013 – The cost-efficient, low-profile, compact, Radiant™ Skylight Tube. With a small footprint, flashing dimensions of 23.5"x23.5", the Radiant Skylight Tube is perfect for tight spaces to bring in the natural light while maintaining the beautiful exterior appearance. The Radiant Skylight Tube comes with six feet of pre-attached flexible tubing for simplified installation – perfect for the DIY'er for an afternoon project or for the contractor to add in to any roofing or remodeling project. Designed to withstand the toughest of weather conditions, the Radiant Skylight Tube is designed for a leak proof installation and has upgraded acrylic that is hail resistant. The Radiant Skylight Tube is the perfect solution for bringing in more natural lighting without sacrificing energy efficiency or aesthetics.
Geoff Foreman, CEO of U.S. Sunlight Corp, states, "We are pleased with this expansion of our Skylight Tube line, offering a cost-effective, easy to install, compact 14" Skylight Tube. As always, U.S. Sunlight strives to offer products that allow homeowners to go green without costing them lots of green. These incremental home improvements will continue to reduce our fossil fuel consumption and improve the comfort and quality within our homes."