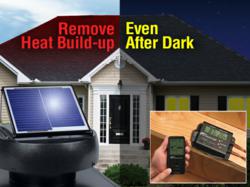 The Solar Controller has changed the face of solar attic ventilation – now we can guarantee a minimum of air exchanges in a 24 hour period making this product suitable for builders, energy efficient remodelers and green home improvement contractors.
Incline Village, NV (PRWEB) May 31, 2013
The successful launch of the Solar Controller in 2011 opened up a whole new dimension to the solar attic ventilation industry receiving numerous awards including: "Best of Show" at the 2011 National Hardware Show, "Best Sustainable Product of 2011" by BUILDERnews and a "Hot 50 Product of 2013" by Green Builder Media. For the first time, customers were able to monitor their attic temperature, attic humidity and fan operating status with the convenience of the hand-held remote. One of the most well received features of the Solar Controller is the included AC Power Adapter, designed to continue operation of the U.S. Sunlight Solar Attic Fans and All Purpose Ventilators into the evening on an intermittent cycle. The original programming of the Solar Controller dictated it would continue operation of the Solar Attic Fan after solar power was no longer available on an intermittent cycle – 8 minutes on, 22 minutes off – for up to 6 hours. The purpose of the intermittent cycle is to continue cooling the attic space down in the evening as the ambient temperatures lower as well, by simply ensuring complete air exchanges within the attic space.
For 2013, U.S. Sunlight has further improved the technology of the Solar Controller to have extended run-time when solar power is not available. Now the Solar Controller will run on an intermittent cycle of 15 minutes on, 15 minutes off for up to 10 hours or until solar power becomes available again. This allows the solar attic fan to assist in lowering attic temperatures and humidity at an even more efficient rate. The Solar Controller is still designed to use as little electricity as possible to continue reducing air conditioning usage without adding in more than $5 per year in electricity usage.
Robert Buckley, President of U.S. Sunlight Corp states, "The Solar Controller has changed the face of solar attic ventilation – now we can guarantee a minimum of air exchanges in a 24 hour period making this product suitable for builders, energy efficient remodelers and green home improvement contractors. The Solar Controller, along with the U.S. Sunlight Solar Attic Fan, were tested by a certified RESNET auditor and have shown they can improve a home's HERS (Home Energy Rating System) index by up to 4 points – a significant improvement in energy efficiency for relatively low cost. As always, remember the U.S. Sunlight Solar Attic Fans and Solar All Purpose Ventilators, along with the Solar Controller, are eligible for the 30% federal tax credit and many local and state rebates."