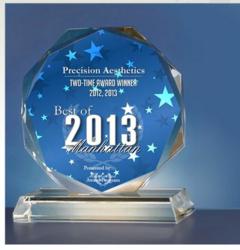 Its an incredible honor to be awarded a "Best" in a city like New York, home to hundreds of the best Doctors in the world
(PRWEB) May 31, 2013
"Its an incredible honor to be awarded a "Best" in a city like New York, home to hundreds of the best Doctors in the world." remarked John Aslanian, practice manager.
Lisa A Zdinak, MD the medical director of Precision Aesthetics, spends the majority of her week researching and sourcing new technologies from every corner of the planet in order to offer her patients the best possible outcomes and results without having to travel the globe themselves. As a result Precision Aesthetics can lay claim to more than a dozen firsts in New York and confidently assure their patients that they are receiving not only the latest technology but in the hands of the most experienced provider. Amongst its many firsts and introductions were Exilis and Thermage for non invasive fat reduction, loose skin and circumferential reduction as well as non invasive face lifting, PRP popularly referred to as Vampire or Dracula face lift. SilkPeel dermal vitamin infusion and the use of cold for cryolifting facials.
Recently Dr Zdinak was featured on channel 11 for PRP and in this months W Magazine for Carboxytherapy for the treatment of Stretchmarks and Cellulite. Dr Zdinak is currently researching and working with the leading Stem Cell companies that are developing personal stem cell creams.
Today's cosmetic world has experienced a major paradign shift from the surgical model to a non surgical model of patient care. Dr Lisa Zdinak, a classically trained Occuloplastic Surgeon is perfectly positioned to evaluate those offerings and truly understand how the results stack up against surgeries she herself has performed in her early training.
It is truly a joy to be able to offer this level of patient care to not only those that travel from all over the world but to anyone who wants to avoid the scalpel. Being recognized by the patients and the media alike makes all of the hard work worth it.
Dr Zdinak proudly services her clients at 10 West 74th St at Central Park West where she offers her patients a variety of services and products. Amongst the many services that she is most noted for is the fact that she is still New York's premiere Thermage provider ( for non surgical body and face lifting) recognized by both its Black Diamond and Pinnacle Award for over 5 years in a row. Dr Zdinak and precision were also proud to introduce Exilis to New York and Illumiwave Lipocontour for body shaping and contouring.