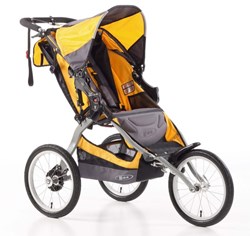 A jogging stroller is an investment in your health and mental well-being
Cheyenne, WY (PRWEB) May 31, 2013
BabyGearLab.com shares its advice on choosing the best equipment for new and expecting parents who want to exercise with their young children in tow. Founded by board certified pediatrician Juliet Spurrier, MD, BabyGearLab is an online service that produces the best reviews on the Internet for baby products, as well as articles concerning safety and health issues, and resources for informed gift-giving and preparing for baby. Recently, Dr. Spurrier authored an article called "How to Choose the Best Jogging Stroller" to help parents choose the best model for their family and family's lifestyle.
The article considers how each jogging stroller works on concrete, gravel and more naturally-paved roads. Dr. Spurrier notes that, "for road running, parents can start running with baby in a specialized stroller when baby is 8 weeks old, and at 8 months old for off-road terrain." Features worth examining include how well harnesses, tethers, tires, and parking breaks function, and what the translucent windows are made of. The Juvenile Products Manufacturers Association (JPMA) in accordance with the American Society for Testing and Materials (ASTM) standards provides guidelines for best practices as well that certain manufacturers should include in their advertising.
Comfort is also an important factor because, according to Dr. Spurrier, "It's great when both you and baby can enjoy the experience of getting outside together. For moms, comfort is rated by the adjustable handle bar and adjustable tracking, while for babies, comfort is rated by the suspension system and seat padding." She goes on to say that, "Although these kind of strollers are more expensive than traditional ones, they can be worth the cost when factoring in other costs related to childcare and mom's overall good health." To learn more about these running companions, BabyGearLab has published a Best Jogging Stroller Review based on extensive testing of ten different models over a three-month period.
About BabyGearLab
With the goal of being the leading online resource for side-by-side reviews of baby products, BabyGearLab was founded in 2012. Mom-in-Chief and pediatrician Juliet Spurrier, MD first envisioned the site while pregnant and searching for a service to help with making all her baby product purchases, but couldn't find anything comprehensive enough. After the arrival of her second child, BabyGearLab was born.