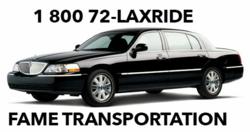 We give them an offer that they can't refuse so to speak. Why pay double the price for a ride in a dirty taxi cab when you can travel in luxury for less
Los Angeles, California (PRWEB) May 31, 2013
In the exceedingly competitive airport shuttle business in Southern California, there are companies that take advantage of the hottest technologies to modernize their business, and there are companies that are sluggish to see the opportunities and end up being left behind in the dust. Consumers consistently reward those businesses that continue searching for new and innovative ways to make life easier and more enjoyable for them. Nowhere is such a dedication to customer care – and the clever use of new technology to achieve it – more evident than in the offices of 800-72-LAXRIDE Transportation Services, the premier Los Angeles limousine and airport Shuttle Company in Southern California.
800-72-LAXRIDE has made countless efforts to integrate their state of the art communications technology and eco-friendly vehicles into their fleet, maximizing their efficiency for both customers and their employees while providing customers with a smooth, effortless experience on the way to or from the airport. With a state of the art dispatch system that includes a smart-phone app, there is no room for human error. Highly trained drivers employ cutting-edge software on their individual IPad Tablets that record when the passenger has gotten on board, where they're headed, and other important details of the trip. No messy paperwork gets I the way at the end of the day, so that 800-72-LAXRIDE employees can focus on providing personalized service to their customers in the moment.
800-72-LAXRIDE has been able to master the Los Angeles Airport shuttle business by maintaining an unbelievable rate of customer retention. "We give them an offer that they can't refuse so to speak. Why pay double the price for a ride in a dirty taxi cab when you can travel in luxury for less" – remarked 800-72-LAXRIDE's head of marketing John Bradshaw.
For the absolute best service in LAX and Burbank Airport Towncar and shuttle service, call 1(800) 72-LAXRIDE (800) 725-2974 or visit http://allaccessplacement.com/laxride