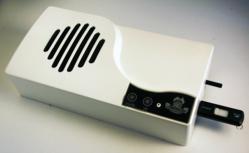 You can't knock it.
Sparta, NJ (PRWEB) May 03, 2013
Predominance LLC has plans to release its second version of its infamous Tommyknocker Digital Doorbell this month, aptly called the Tommyknocker II. The new version of the MP3 doorbell will upload MP3 sound files from the supplied factory memory stick for easy auditions. Press the select button and the last sound file to audition is the file that will play for that selected door. The old programming sequence is virtually eliminated in this process, giving end users a hassle-free experience.
The Tommyknocker is the only patented digital doorbell in the United States that plays your favorite MP3 files via United Serial Bus. The doorbell is powered with a 12-24 volt transformer (not included) and projects over 90 dB of audio through a quality 4" full range speaker. It is currently being built in the U.S and distributed through out the continental US and Europe. It comes with a loaded memory stick, mounting plate, wiring pigtail and hardware.
Plans for successive generations include a wireless USB unit as well as a Radio Frequency activated wireless doorbell switch with plug-n-play 12 volt transformer. The website offers a free library of unique sound bytes as well as musical motifs. All Tommyknocker's are guaranteed for 90 days and the company offers a full money back return policy.
Predominance LLC is a New Jersey based company that focuses on audio products with less conventional applications. Their PC audio boards are being implemented by the US Army for training purposes and the company is looking to apply the same functionality in their boards to early warning fire and security systems. Predominance has been in existence since 2008.
Contact Scott Steinetz at ssteinetz(at)gmail(dot)com or you may visit the website at: http://www.tommyknockerdoorbell.net/.