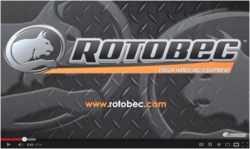 (PRWEB) June 19, 2013
Rotobec has released a new corporate video. Learn more about the people behind the product and our extensive manufacturing processes.
The new video takes you to each of our global locations: Rotobec Inc, Rotobec USA, Rotobec West, and Rotobec Brazil.
Rotobec Corporate video - English
Vidéo corporatif Rotobec - French
Our toll free sales number is 855-Rotobec (768-6232) and the direct email to Sales support is sales(at)rotobec(dot)net.
Parts and service support: 603.444.2103 for the Eastern US and 250.765.1161 for the Western US.