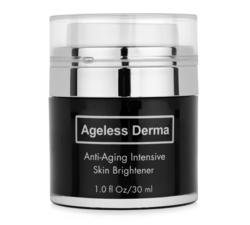 Anaheim, CA (PRWEB) June 25, 2013
According to dermatology experts and the scientists at Ageless Derma Skin Care Company, the old myth about never using moisturizers on acne-prone or oily skin is just not true. The Ageless Derma skin preparations now prove that just the opposite is true. These skin care science experts have discovered that moisturizers in an anti wrinkle cream actually fight acne and other skin conditions as they help in the fight against aging.
The moisturizing ingredients in Ageless Derma's creams and lotions are non-comedogenic. They do not clog the skin's pores, which is a main cause of acne and blemishes. The naturally based moisturizers found in Ageless Derma products actively help to prevent acne breakouts.
Moisturizing the skin has been found to help with the prevention of acne because dry skin is actually what ends up clogging pores and generating acne breakouts. The researchers at Ageless Derma want only the most pure moisturizers on the skin, so they use all natural ingredients. The skin is hydrated, not oiled or "greased up," in order to add a layer of protection in staving off blemishes.
Ageless Derma's Stem Cell and Peptide Anti Wrinkle Cream contains a natural yet powerful moisturizing agent, sodium hyaluronate. Here is a wrinkle cream that is strong enough to prevent and reduce wrinkles, yet knows that the skin also needs to be moisturized to soften skin, plump up wrinkles, and prevent acne from dry skin.
Ageless Derma also realizes that some customers have naturally oily skin, which can indeed lead to more acne prone conditions. The company makes some oil-free products for such complexions. The Ageless Derma Special Clay Masque was specially formulated for those with oily skin prone to breakouts. It contains allantoin, a botanical that is derived from the comfrey root. It works to moisturize and soothe inflamed skin. The Vitamin B5 in Ageless Derma's Masque is another natural, excellent moisturizer designed for oily skin. The vitamin ingredient is taken from rice husks. It regenerates skin cells to work on restoring youthful skin, and smoothes away wrinkles.
Ageless Derma's Daily Mineral Guard with an SPF of 25 is also for oily or sensitive skin that is prone to breaking out. It contains moisturizing soybean oil to nourish the skin's pores and prevent the acne-causing flaking. Sodium hyaluronate also hydrates the skin as it protects it.
Even Ageless Derma's Face Whitening Cream contains an important ingredient in NET-DG (dipotassium glycyrrhizinate). This is a licorice root extract that protects hyaluronic acid, a natural moisturizing agent. NET-DG is also an anti-inflammatory, helpful in preventing acne eruptions.
Acne, eczema and blemishes can occur on just about any part of the body. For areas other than the face, Ageless Derma makes an Organic Moisturizing Body Lotion. The Glycine Soja (or wild soybean oil) in Ageless Derma's Lotion contains essential amino fatty acids and proteins. It's rich in Vitamin E, a skin-healing agent. Its antioxidant properties help repair skin damage from the sun, and it works as a cleansing agent. The Ageless Derma Body Lotion hydrates the skin, leaving nowhere for dry skin flakes to form and cause pimples.