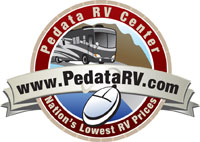 Some of our most popular service deals are preventive.
Phoenix, AZ (PRWEB) June 26, 2013
Pedata RV Center adds RV service and collision repair to their full list of services in addition to their inventory of used RVs and travel trailers. Techs in the service center are trained and certified in all major RV fields with technical training specific to RVing.
Gerard Pedata of Pedata RV Center said, "Some of our most popular service deals are preventive. For instance, our pre-trip inspection decreases the potential for disruptions to upcoming vacations as well as inevitably expensive roadside repairs of simple problems."
The Pedata RV Center's RV Service and Collision Repair Center Offers:
Pre-Trip Inspections
Systems Check and Safety Inspections
Generator Service
LOF (Lube, Oil + Filter) Gas + 32 Point Inspection
Appliance Service (Water Heather, Refer, Furnace, Roof A/C)
Roof Reseal
Trailer Wheel Bearing Pack
Complete Collision Repair (free estimates, insurance accepted)
The addition of the full service repair center to the Pedata RV Center wholesale inventory of used RVs and travel trailers should greatly increase the company's ability to make an impact in the industry. Pedata RV Center hopes to provide full RV service and repair for all RVers in the area. To aid RVers in fulfilling proper maintenance and keeping their recreational vehicles on the road and out of the shop, the Pedata RV Center's service area hosts an online Do it Yourself RV Maintenance Service Video Library including general service and maintenance tips.
Pedata RV Center sells used RVs, travel trailers, fifth wheels, campers, and motor homes. Their full inventory is accessible online and due to their low overhead costs they are able to offer competitive pricing in their industry. Easy access to industry and recreational vehicle information allows consumers to have access to the specific knowledge they need to ensure their purchase results in long-term satisfaction.