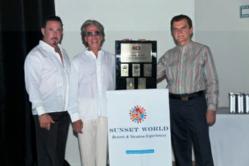 The Sunset Royal Beach Resort has received this prize for 22 consecutive years, confirming the tourism group's commitment to providing quality and excellence for its guests
Cancun, Quintana Roo (PRWEB) June 19, 2013
The Sunset World Resorts & Vacation Experiences tourism group confirmed its leadership in the vacation club segment of the tourism industry in the Mexican Caribbean by receiving four Gold Crown awards, awarded by Resort Condominiums International (RCI), the most important vacation membership exchange company in the world.
The proudly Mexican tourism group received these valued awards for quality and excellence in service at the Hacienda Tres Ríos Resort, Spa & Nature Park, Sunset Royal Beach Resort, Sunset Marina Resort & Yacht Club and Sunset Fishermen Resort, thanks to the excellent ratings given by guests and visitors at these tourist properties in Cancún and the Riviera Maya.
With innovative marketing strategies, the constant renovation of its facilities and its commitment to offering the best vacations for its guests, Sunset World has been able to maintain its international reputation as one of the best tourist products in Mexico and the Caribbean for more than two decades.
By receiving this award in 2013 Sunset Royal Beach has had the privilege of receiving the Gold Crown award for 22 years, the Sunset Marina Resort and Yacht Club for 17 uninterrupted years, the Sunset Fishermen during the past 14 years and the Hacienda Tres Rios Resort, Spa & Nature Park ecotourism complex for the fifth consecutive year since its opening.
During the awards ceremony that took place in the Sunset Marina Resort & Yacht Club in the presence of the hotel directors and the media, the hotel executives received the Diamond Awards for their invaluable contribution to the teamwork involved between
Sunset World Resorts & Vacation Experiences and RCI, and the promoters with the highest membership sales received the Top Seller Awards.
The event was attended by Orlando Arroyo Marroquín, Chairman of the Board of Directors at Sunset World Resorts & Vacation Experiences, Jorge Pallas and Arturo Marcelín, vice-presidents of the tourism group, as well as Juan Ignacio Rodríguez, vice-president of business development at RCI for México and Central America; Jesús Calahorra, Director of Business Development at RCI in Cancún and Felipe Baquedano, Senior Account Executive at the vacation organization, were also present.
Sunset World Resorts & Vacation Experiences has operated for 25 years in the Mexican Caribbean and in 2012 received more than 600 thousand tourists in its six hotel properties, thanks to successful marketing strategies in the Philippines, U.S.A, Mexico, Canada and South America and this year will make a concerted effort to expand its presence on an international level and thus increase the number of tourists who visit Cancún and the Riviera Maya.