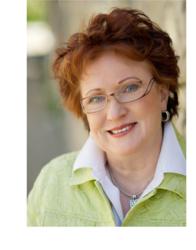 In every set-back lies opportunity.
Woodstock, ON (PRWEB) June 10, 2013
Anne Miner is a Woman of Courage and an inspiration to women of all ages. She brings experience and perspective to mobilize others to get up when life knocks you down, to go over, under around or through the obstacles life places in your path, to be courageous in pursuing your life's dream.
Anne knows that life can change in an instant. At a very young age, she was forced to confront life's adversity head-on when her father was taken ill leaving her stay-at-home mother immobilized with fear at the spectra of providing for 5 school age children alone. Her father had quite literally "risked-it-all", his health, his family, his future which meant that there was no money to pay the bills and no prospect of generating an income without him. Anne stepped in to support the family; at the age of 19 years, she learned to negotiate terms with the bank and other creditors, to organize all her siblings to help – to find a way to earn enough to buy groceries and pay the household bills.
Over the years, Anne has honed her skills as a risk taker, a visionary, an entrepreneur, a speaker and a coach. She has ridden the roller coaster of what she refers to as "the ups and the downs and the downs and the ups". She has succeeded and she has failed – a lot. Anne is determined to share her experience with others in hopes that they can avoid the pot holes she stepped in along the way. "In every set-back lies opportunity", says Anne. Her mission is to help others to be the best they can be, to encourage them to see the possibilities in life, to find their purpose, face their fears and move forward with confidence to achieve their dreams.
It takes courage to face your fears. Anne guides her guests through their stories, knowing how fear can take away confidence. Anne firmly believes that hearing the stories of other women will inspire, motivate and mobilize women – will give them strength and courage and determination to face their challenges and to succeed. It is out of this belief that Anne appeals to us all to share our stories with others.
Each week a new guest will be interviewed, and the show will then run several times throughout the week.
For more information you can check the schedule on Rogers website.
Anne Miner is the founder and President of The Dunvegan Group Ltd., customer care and retention specialists who help companies grow by building strong, competitor resistant customer relationships. She is an entrepreneur, a visionary leader and an acknowledged expert in the field of customer care and retention. In 2012, The Dunvegan Group celebrated their 25th Anniversary.
Miner is the author of two books for B2B executives: "The Bottom Line on Customer Retention: It Pays to Care!", and newly released "Measuring Up! A Guide To Success With Customer Feedback". Both available on Amazon.com, these books are full of tips, techniques and secrets to success in keeping ideal customers, growing revenues from ideal customers and finding more ideal customers.
Anne Miner has consulted to such major corporations as Ryder, Pitney Bowes Management Services, and Trailer Wizards Ltd.
For more information on Anne Miner and The Dunvegan Group Ltd. please visit http://www.dunvegan.ca
You can also find out more about Anne's passion as a coach, a speaker, and a mentor by visiting her new website at http://www.anneminer.com.