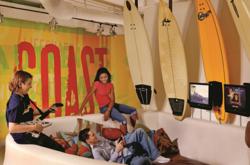 ...no mosquitoes, homesickness or short-sheeted beds, just the perfect escape for summer days.
Palm Beach, FL (PRWEB) June 06, 2013
Beyond crafts and campfires, summer camp at The Ritz-Carlton, Palm Beach combines the tradition and nostalgia of camp with the appeal and luxury of the oceanfront resort. Throughout June, July and August, "Camp Loggerhead" at The Ritz-Carlton, Palm Beach brings families together for select, week long summer camp experiences. Long gone are teetering tents and cabin leaders in favor of Frette sheeted "bunks" and cabana cache. Mosquito memories burst to life with water sports, three-legged races, scavenger hunts, sing-alongs, pillow fights, S'Mores and marshmallows galore.
"Camp Loggerhead" (named after popular nesting turtles) overflows with hands-on family fun and goings-on throughout the resort. Families can enjoy bonfires and barbeques with hamburgers and hotdogs; participate in cooking classes with the Chef; make your own pizza night; plus games and popcorn filled movie nights in AquaNuts.
The Sunday arrival welcomes families with a late afternoon "Barefoot Mailman Walk" – a historic re-enacted beach walk--highlighting the local lore and history of Manalapan. The week continues with Eau Spa treatments, date night and wine tasting class for the parents. And for the younger guests, scrapbooking, jewelry making and photography classes plus, family-friendly activities as turtle nest scouting, movies, archery, bee-keeping seminars, photography and pool/ beach games. The kids' scheduled events are from 9:00AM – 4:00PM daily and include lunch; no mosquitoes, homesickness or short-sheeted beds, just the perfect escape for summer days.
Weeklong stay includes overnight accommodations; all children's' meals, and activities; adult Eau Spa treatments (one per adult); adult dinner for two and family dinner. Pricing for the six night camp is $5600 based on two adults and one child; price is $150 for additional children under 18 years. Dates for Camp Loggerhead are the weeks of June 23 – 29th, July 21 – 27th and August 18 – 24th. For more information about "Camp Loggerhead" at The Ritz-Carlton, Palm Beach please visit ritzcarlton.com/palmbeach or call 561-533-6000.
About The Ritz-Carlton, Palm Beach
The Ritz-Carlton, Palm Beach is a Forbes Five Star and 2013 AAA Five Diamond Award property, which completed a more-than $130 million transformation in 2009. The beachfront resort welcomes guests with breathtaking ocean views immediately upon entry and a gorgeous outdoor terrace with evening ambiance and a fire pit. There are 310 spacious guestrooms and luxurious suites – including the 2,755-square-foot Presidential Suite – and 23,000 square feet of indoor meeting space. Dining options include Angle, a contemporary American supper club; Temple Orange for traditional Italian comfort food; Breeze as a chic burger bistro set oceanside; Oceanfront Cabanas for intimate affairs; Eau Spa Café; and Stir Bar in the lobby lounge for light nibbles and refreshments. The Business Lounge and Resort Cabanas cater to travelers who wish to combine work and play. Eau Spa offers a contemporary take on spa-going and day-long unwinding with a multitude of fanciful treatments, a full-service salon and fitness center. For more information visit http://www.ritzcarlton.com/resorts/palm_beach.
About The Ritz-Carlton Hotel Company, LLC
The Ritz-Carlton Hotel Company, L.L.C., of Chevy Chase, Md., currently operates 82 hotels in the Americas, Europe, Asia, the Middle East, Africa, and the Caribbean. More than 30 hotel and residential projects are under development around the globe. The Ritz-Carlton is the only service company to have twice earned the prestigious Malcolm Baldrige National Quality Award, an award that originated in 1987. Its purpose is to promote the awareness of quality excellence, recognize quality achievements of companies and publicize successful quality strategies. The Ritz-Carlton Hotel Company won the award in 1992 and 1999. For more information, or reservations, contact a travel professional, call toll free in the U.S. 1-800-241-3333, or visit the company web site at http://www.ritzcarlton.com. The Ritz-Carlton Hotel Company, L.L.C. is a wholly-owned subsidiary of Marriott International, Inc. (NYSE:MAR).