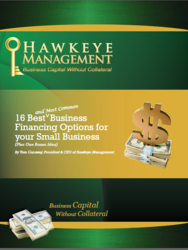 it's important to borrow the right way
Blackwood, NJ (PRWEB) June 13, 2013
Hawkeye Management has released a new eBook. The free electronic book describes the 16 best & most common ways that small business owners seek working capital for their dream business. This is a great read for small business owners looking for small business loans. The report discusses ways to acquire funding for small businesses such as private equity, angel investors, and family. The report also goes into depth on the dangers of NOT separating personal and business credit. Using personal credit to fund a business can tarnish a good credit score. This report lets aspiring business owners know all the options on credit and lending.
Tom Gazaway the author and founder of Hawkeye Management further explains, the financing solutions herein probably make up 90% of all capital that is obtained by small business owners. Tom continues to explain, it's important to borrow the right way and use working capital and lines of credit for revenue generating activities. This way, a small business can generate additional revenue and profit that will justify the additional debt that was created.
To read more or get a free copy of the 16 Most Common Ways to Get Money for your Small Business Click here.
Hawkeye Management connects entrepreneurs and small business owners with up to $50,000-$150,000 or more in freely spendable business credit lines. Hawkeye Management understands the mechanics and realities of small business credit better than anyone. Hawkeye Management knows what works, what doesn't work, and how small businesses can get the credit it needs as quickly as possible.