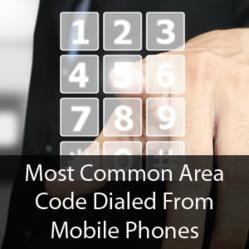 "800" is by-far the most dialed area code from Verizon Wireless mobile phones in the United States according to statistics released on TollfreeNumber.ORG
Urvine, CA (PRWEB) June 07, 2013
Tollfreenumber.ORG, an American-based company and major toll free number provider, has recently been quoted talking about toll free numbers and cell phone usage on their website providing evidence of the popularity and effectiveness of toll free 800 numbers. Logan Marshall, founder of Tollfreenumber.ORG, has discovered that 800 is the most dialed area code dialed from mobile phones in 2012.
"800 is by-far the most dialed area code from Verizon Wireless mobile phones in the United States," says Marshall after revealing on his website statistical data about toll-free number usage. "That speaks volumes about just how effective toll free numbers still are, even though certain toll free number critics might claim that they are outdated. Given that 800 numbers are still the most dialed area code from cell phones today, businesses of all sizes should take note and grow to understand how having a toll free number can be of benefit to them."
Small Business Owners who would like to register a new toll free number are being strongly urged to do so immediately, given that 800 number supplies are quickly dwindling and will not be replenished in the foreseeable future. "New area codes aren't due to be released until late next year, or possibly even 2015. So getting an ideal 800 number now is vital if you have a particular number in mind and want to get the most out of your new toll free number," states Marshall.
Tollfreenumber.ORG offers customized vanity phone numbers to businesses seeking to build their identity and provide memorable contact information to potential customers. The company's website, http://www.tollfreenumber.org/tollfree-number-customized/, provides a search function that allows clients to determine whether the phone number they want is already in use.
Tollfreenumber.ORG also offers non-customized toll-free numbers to businesses and private individuals. The company is based in Irvine, Calif., and was founded in 1999, and it serves more than 100,000 customers across the United States. Additional services available include the Virtual Telecenter, comprehensive incoming call logs, and routing of the toll-free number to any phone, including cellular phones.
For information, visit the company's website or call 1-800-951-9411.