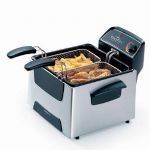 Deep Frying has never been this easy.
(PRWEB) June 01, 2013
Many people like they are shopping alone when it comes to shopping for a grill or deep fryer. They want to be able to get advice from their friends as they shop. FaceBook gives them that sense of working together with others. Most individually owned business websites are strictly setup for selling.
FaceBook Page links are not inherently business card friendly which makes it difficult for businesses to advertise their FaceBook page on such things as business cards. Their links are long and full of numbers. However, there is a solution. Business owners can obtain a shorter more business friendly page links once their page achieves a goal of 25 fans or more. Jerry McGahan, the company's CEO, points out that his company could have produced its cooking products page months ago. Company executives, however, felt it would be better to wait until they were able to provide potential customers with short easier to remember website links. Short easy to remember website links are also better suited to business cards and other off-line forms of advertising campaigns.
Company officials are also planning on offering weekly opinion polls as a way to help their customers socially connect with one another. This gives potential customers the ability to make comments and to add their own options to polling questions. Customer surveys and opinion polls are a fantastic way to learn how other people feel about a particular service or product.
Just like there is no one single right tool that is just right for every job, there is no single cooking product that is perfect for every cooking occasion. Therefore, SkilletsAndMore.com offers a wide range of frying pans. They also offer a wide assortment of products for indoor grilling and outdoor grilling.
Another favorite customer cooking product are the deep frying products which can be an important part of a healthy lifestyle if used correctly. Unfortunately many people do not know how to use them correctly. SkilletsAndMore.com also offers a monthly news feed which gets posted directly to their FaceBook page which offers
with the latest industry product news, product care advice and cooking suggestions.
There is not enough space to post every product the company has to offer on a single FaceBook product page. Their product description listed on a FaceBook product page is limited to 90 characters. This is not very much space for writing about the features and benefits of a product. The company, therefore, placed a navigable "Buy Now" button on the bottom of each of their product descriptions. Once a customer clicks the "Buy Now" button, they will immediately be taken to the company's main product page so they can get more information before making a purchase. This also provides customers with a fantastic opportunity to view and compare similar products that the company offers.