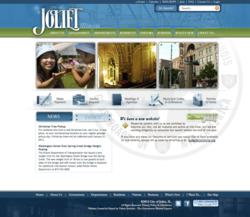 Our Vision Internet project manager provided us with in-depth training on the CMS functionality and since then, site updates have been a breeze.
Joliet, IL (PRWEB) June 04, 2013
The City of Joliet, IL recently announced the launch of a new City website that was rebuilt for improved accessibility to information and online services. The new site can be accessed at http://www.cityofjoliet.info.
Changes to the new City website include a modern, interactive design, an improved navigation system based on government website best practices, and a technological upgrade to today's leading government content management system – the visionCMS™.
"The launch of Joliet's new City website has come at a great time," shared Assistant City Manager Ben Benson. "As the City continues to grow, we've made it a priority to improve our communication with citizens as well as those visiting and looking to invest in Joliet."
"We worked with Vision Internet, a national leader in government website development, to build our robust city website," continued Benson. "A thorough selection process found Vision Internet to be the most capable government website development company to bring improved functionality and forward thinking technology to our dated city website."
Top visited pages and new interactive components are prominently displayed as graphic homepage icons or header quick links. Some of these features include:

E-Notification System allows users to easily subscribe to automatic email updates from the City.
Online Payments for simple payment of parking tickets, utilities, etc.
Service Request forms are readily available to be filled out and sent directly to the appropriate City department.
Dynamic community calendar shares upcoming events that can be filtered by department and easily added to personal calendars.
Open bids/RFPs and current job opportunities are posted by the City.
Permits and Forms for everything from tax returns to liquor license applications are within a click of the homepage.
Providing open government transparency to the public is a top priority for Joliet. For this reason the "Transparent Open Government" section has been created to easily share all financial public records such as annual budget information, treasurer's reports, monthly financial reports, and more. This section is easily accessed from the "About Us" main navigation dropdown menu.
"One of the main issues with the old website was how difficult it was to make any changes or additions to the site, but these problems are now a thing of the past," continues Benson. "The new website runs on a Vision Internet's powerful government content management system which is incredibly simple to use. Our project manager provided us with in-depth training on the functionality and since then, site updates have been a breeze."
To learn more about Vision Internet's easily implemented government website solutions, please visit http://www.visioninternet.com/freedemo to request a one-on-one, no-obligation tour of the visionCMS.
About Vision Internet:
Vision Internet is the national leader in government website development with nearly 500 government, non-profit, and education clients across the US and Canada. Over the past 17 years, Vision Internet has been creating industry-defining websites for communities ranging in populations of less than 1,000 residents to more than 5 million. Widely recognized as the government website experts, the company has earned hundreds of prestigious industry awards for its unique websites. For more information, please visit http://www.visioninternet.com.