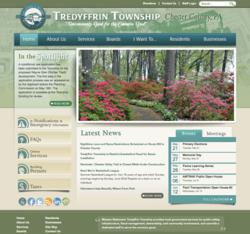 We found Vision Internet to be the best vendor for the job because of their expert knowledge in every aspect of government website development.
Tredyffrin Township, Pennsylvania (PRWEB) June 11, 2013
As part of an ongoing initiative to connect with residents and business owners, Tredyffrin Township is proud to introduce a new, user-friendly website. Accessed at http://www.tredyffrin.org, the new website provides those interested in the Township with modern ways to stay informed and better connected.
To make sure the new website was as successful as possible, the Township enlisted the help of Vision Internet a longtime leader in local government website development.
"Our old website had many issues that we wanted to address during the redesign. An outdated design, poor content, and archaic technology were on the top of the list," shared the Township's Community Development Coordinator, Kate Jones.
"We found Vision Internet to be the best vendor for the job because of their expert knowledge in every aspect of government website development. We needed honest guidance and an experienced team to transform our website and we found that with Vision Internet."
The new website provides many new interactive components that have opened the lines of communication between the Township and its residents and local businesses. Some of these features include:

E-Notification System allows individual to sign up for automatic email updates from the Township
Facility Directory map provides users with a listing of all types of facilities in the community
Emergency Homepage Alert notifies site visitors of emergency information immediately upon visiting the website
Dynamic Calendar System makes it easier to find information on upcoming community events and meetings
FAQs to address important information in a simple, easy-to-follow format
Tredyffrin Township's new website is powered by Vision Internet's award-winning government content management system, the visionCMS™. Unlike their updating procedures of the past, Township staff members are now able to make website updates without needing a background in HTML coding. This newly acquired technological freedom facilitates frequent updates, making the site more relevant.
To learn more about the government-focused technology that has transformed the Township's online communication, please visit http://www.visioninternet.com/inforequest.
About Vision Internet:
Vision Internet is the national leader in government website development with nearly 500 government, non-profit, and education clients across the US and Canada. Over the past 17 years, Vision Internet has been creating industry-defining websites for communities ranging in populations of less than 1,000 residents to more than 5 million. Widely recognized as the government website experts, the company has earned hundreds of prestigious industry awards for its unique websites.