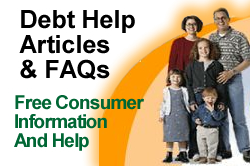 How to attack overwhelming unsecured debt presents daunting issues for those in the middle of a cash crisis and that's exactly why they need to figure out the best way to cure their own personal debt situation.
Pittsfield, MA (PRWEB) June 27, 2013
Bankruptcy Alternatives, one of the oldest and most respected sources for information about debt and credit on the internet, recently made major updates to its non-profit credit counseling FAQ. People with unsecured debt, such as credit card debt, frequently don't know about any options to provide debt reduction, let alone which option may fit best for their own personal financial situation. In reality debtors may explore ten different legitimate and well proven methods of erasing unsecured debt, one of which includes non-profit credit counseling. Financial Firebird Corporation's Debt Advice Free program helps consumers match the ten unsecured debt help solutions to their individual income and debt situation with methods ranging from paying in full to choices where the debtor pays absolutely nothing.
Non-Profit credit counseling stands as a popular option to deal with unsecured debt because opting for this solution costs very little in additional fees and marks a way to help eliminate debt without the destruction of ones credit score. With choices such as debt settlement, chapter 7 bankruptcy or chapter 13 bankruptcy debtor may be assured of a horrible credit report for a long time. For people with debt trouble who begin looking for help eliminating overdue bills with their credit score already quite low, perhaps in the 450-550 range, this presents less of a concern as most of the potential credit damage already occurred. On the other hand, those with credit scores above 550 and people who may never yet have missed a bill payment may be able to find bad credit mortgage lenders willing to work with them, even if the mortgage originators want to push the borrowers scores just a bit higher before buying a new home. While bad credit auto loans may stand as easier to qualify for, the higher the credit score the better the rate and the less trouble one will experience in attaining loan approval. Often people need help to repair credit score numbers no matter which option they choose and it ends up more a matter of degree of damage and length of time required to rebuild credit.
This basic premise of a non-profit credit counseling service involves the non-profit credit organization negotiating interest rate reductions to existing debt from credit cards and other sources like medical bills allowing more payments to go right to the principal balances and dramatically shorten the time required to pay back the debt. In some cases the interest rate reduction may be slight, or in other cases the rate may drop all the way to zero. In any case it creates a firm plan where the creditors and the debtor all understand a road map for clearing things up and the nasty calls stop, not to mention potential legal proceedings. Usually payments for a large number of cards turns into a single convenient check to the non-profit credit counseling agency who makes the proper distributions from there to all creditors.
Another significant advantage of non-profit credit counseling involves budget counseling. Other types of credit card debt help organizations only deal with elimination of past debt. Non-profit credit counseling companies stand as much more likely to not only help wipe out the old debt, but also provide guidance and education to adjust future spending habits so that people do not fall back into debt trouble.
Generally people with smaller debt problems end up finding non-profit credit counseling works best for them. To give a rough range, one might think about $1500 to $25,000 in unsecured debt emerging as the debt levels of most clients. This does not mean that people with debt under $25,000 should not look at other options or that people with debt over $25,000 should ignore non-profit credit counseling. Keep in mind too that payment are required, so those with zero income will find non-profit credit counseling will not work for them.
For some people with employment related issues non-profit credit counseling may end up as the best option. Many potential clients think they will lose their jobs if they file bankruptcy or try a debt settlement negotiation where they pay a fraction of the debt. In most cases their fears end up unfounded and they should do what works best for them. For a minority of people, perhaps including folks in some higher level banking positions and certain government employees with high security status, some of the more aggressive debt solution may indeed lead to job loss and non-profit credit counseling ends up as the most aggressive way to deal with their credit card or medical debt..
In past years an issue with non-profit credit counseling agencies involved companies who set themselves up as non-profits, but the operated more like for profit companies and cared more about making money than helping people with debt trouble. Happily, most of those agencies were driven out of business and it's much easier today to find an honest good credit counseling agency. Consumers may find some links for help at the end of the non-profit credit counseling FAQ.
How to attack overwhelming unsecured debt presents daunting issues for those in the middle of a cash crisis and that's exactly why they need to figure out the best way to cure their own personal debt situation. For many non-profit credit counseling offers the perfect choice and this FAQ helps to educate people as to if it might end up as their best debt solution.
About Bankruptcy Alternatives-Debtor's Options:
Non-Profit Credit Counseling Services FAQ stands as a part of the Bankruptcy Alternatives - Debtor's Options family of financial information including free debt help and tools web pages started in 1996 and currently offered by the Financial Firebird Corporation with a goal of providing consumers with free unbiased help from a former debt workout and bankruptcy lawyer in choosing the right path to a brighter economic future. Find the pages at debtworkout.com online.