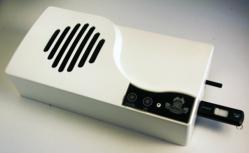 You Cant Knock it
Sparta, NJ (PRWEB) June 06, 2013
Predominance LLC offers a free library on its website available for the Tommyknocker Digital doorbell. Aside from standard doorbell chimes and bell samples, the new library features a collection of Air Force Military Band arrangements of J. P. Sousa marches. Military marching arrangements were licensed exclusively for showcasing their digital doorbell for patriotic Holidays such as Memorial Day and the Fourth of July. Selections also include "America the Beautiful", "Yankee Doodle Dandy" and "Stars and Stripes Forever".
The company says this collection of marching standards was a popular alternative to the files already offered, yet customers may still upload any personal sound files into the digital doorbell provided it is formatted as an MP3 file. Suggested examples of patriotic songs for the Tommyknocker include "Rockin in the Free World" – Neil Young; "Born in the USA" Bruce Springsteen; "Red, White and Blue" – Lynyrd Skynyrd; "Living in America" – James Brown; "Ragged Old Flag" – Johnny Cash; "God Bless the USA" – Lee Greenwood; "America the Beautiful" – Ray Charles as well as many others. Predominance also recommends other songs for the doorbell device that contain "knocking phrases" such as Dave Edmund's "I Hear You Knocking" , Paul McCartney's "Let 'Em In", Tony Orlando "Knock 3 Times".
According to Predominance LLC, the Tommyknocker is the only truly Digital USB Doorbell that does not use analog cabling to load or record sound files. The doorbell functions in an all-digital environment, up loading MP3 files via a USB port onto the machine. MP3 files are formatted to play on the Tommyknocker with a simple address protocol available to all users. All digital sounds in the library are free and users are encouraged to use their favorite songs. The Tommyknocker must be hardwired into the home using safe low 12-24 voltage and is shipped with all the necessary hardware for installation. The doorbell comes with a mounting plate, wiring pigtails, memory stick and instructions. Predominance LLC offers prompt assistance to customers and offers a full 30 day money back guarantee.
Predominance LLC is a New Jersey based company that specializes in digital audio playback devices. The start-up has been operating since 2009 and currently manufactures their products in the United States. Contacts, purchases and other information can be found on their website: http://www.tommyknockerdoorbell.net