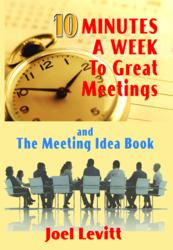 Philadelphia, PA (PRWEB) June 11, 2013
Is it worth 10 minutes a week to improve meetings?
You bet it is, since there are 11 million meetings a day (according a University of Arizona study on teamwork). That is 3 billion meetings a year and $37 billion wasted (according to Industry Week) in the USD alone.
Why so many meetings? No one has found a better way to get business done.
Yet people who attend or even facilitate meetings complain that they are wasteful, de-energizing and demotivating. A survey by Verizon reported that:
91% daydreamed
96% skipped the meeting
95% left early or arrived late
73% bring other work
39% sleep
Tip for action
Put a notice in your employee areas like lunch rooms, lounges, locker rooms, etc. Ask them anonymously: list their top "time wasting" tasks as workers. We're looking for any barriers to getting useful work done.
Guess what? Meetings always make the list. This exercise is also an introduction to other things you can do to improve productivity.
10 Minutes a Week to Great Meetings was written specifically to address these problems. This book is easy to use because there are 10 clear lessons to improve meetings in the front, followed by a section on how to solve the most common meeting problems. That is followed by a deeper cut at all aspects of the meeting called the Meeting Idea Book. The last section is checklists of ideas, recommendations, and tips for every part of the meeting process.
10 Minutes a Week to Great Meetings clarifies specific actions to take in areas including: meeting preparation, participation, facilitation, logistics and follow-up.
Improving meetings in an organization will improve its effectiveness. Great meetings are more fun, more productive, more interesting, more motivating…
Description of paperback book

Length: 245 pages
Cost paperback $17.95, Kindle $9.95
ISBN: 978-1-4827-7675-1
Publisher: Springfield Resources; 1 edition (March 17, 2013)
Sold by: Amazon Digital Services, Inc.
Language: English
Available on Amazon.com
10 Minutes a Week to Great Meetings is written to improving your meetings and has four parts:
Part 1- 10 Minute a week course: is the 10 Minutes a Week to Great Meetings training plan. This section is organized as a short 10 minute a week course in the basics of running, organizing and participating in meetings. Each of the 10 lessons focuses on one aspect of the effective meeting. When a group goes through the 10 lessons their meetings will be more effective and far more energetic.
Part 2- is the meeting FAQs. These are quick statements of common meeting problems and fast solutions and references to specific sections of the book to read.
Part 3- is the Meeting Idea Book. This section takes the 10 lessons and expands them to include background, additional ideas, best practices from top organizations and extensive checklists of ideas, strategies and tactics.
Part 4- is the collection of checklists in the appendix. These checklists cover all the aspects of meetings and have over 100 ideas, tips and things to try.
The author, Joel Levitt, is president of Springfield Resources a global management consulting firm. He has written 10 other books on management and over 125 articles. He has trained over 17,000 managers in 500+ sessions in 21 countries. His clients range from GE to Mercedes Benz and from Abu Dhabi Oil Company to Newcrest Mining.
The ideas for this book were developed over the last 20 years of trainings where meetings were mission critical for such events as refinery start-ups or power plant outages. The ideas taught for these critical meetings were extended and adapted for general business.
Visit http://www.MeetingDefender.com for details on the 10 Minutes a Week to Great Meetings program.
Founded in 1980 Springfield Resources provides advice to large firms and governments about the management of physical assets.