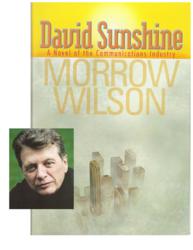 David Sunshine is a thoroughly accurate recounting of the early days of television
New York, NY (PRWEB) June 11, 2013
"The class is called 'Media and Society,'" says Jeffrey Hardy, Adjunct Professor in the Department of Communication Arts, "and David Sunshine is a thoroughly accurate recounting of the early days of television that has the added advantage of being remarkably entertaining reading, as well."
It is seldom that a novel finds itself on a primary reading list for a non-literary college course, but Morrow Wilson's new novel David Sunshine will be taught with another unusual sort of "textbook," Jersey Kosinki's Being There, which was itself made into a 1979 motion picture.
Media-related films in Media and Society" will range from "Network" to "Annie Hall" to Leni Riefenstahl's breath-taking Nazi propaganda piece, "Triumph of the Will."
Novelist Morrow Wilson's reaction: "I couldn't be more flattered," he says. "In fact, I've always believed that novels that capture an era are essential to the full understanding of that era. In the same way that The Great Gatsby gives you the feeling of the Jazz Age and that, in Henry James' European novels, you can practically smell the cathedrals he describes. Textbooks are the first thing you think of, of course, they're essential. But only literary fiction can offer that uniquely personal sense of time, place and history."
Professor Hardy, whose classes consist primarily of international students seeking careers in media, believes the addition of David Sunshine to his fall syllabus will bring new insight into the real mechanics of their future careers. Furthermore, he fully expects other faculty members to follow his lead in bringing fiction into their career-oriented classroom.
Says Professor Hardy: "Year in and year out, books are the most efficient way to present students with knowledge – history books, text books, sociology books. A social novel such as David Sunshine gives both facts and feelings. It establishes emotional context. After all, wouldn't it be a mistake to teach a course in Nineteenth Century London and leave out Dickens? David Sunshine does for literature what "Mad Men" is doing for television. Except it's far more accurate."
The New York Institute of Technology caters to international students and has campuses in both Manhattan and Old Westbury on Long Island.
regaleaglesnest(at)live(dot)com