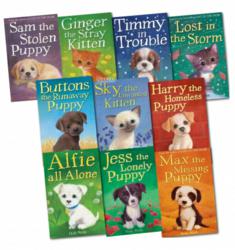 Leicester, Leicestershire (PRWEB UK) 25 June 2013
Now available through Snazal Books, the beautifully illustrated Holly Webb 10-book Puppy and Kitten gift set is an enchanting series of adventures of loveable pets and their young owners, which teach children about the responsibilities of owning a pet. Animal-loving author Holly Webb has written more than 60 children's books for publishers such as Scholastic and Stripes Publishing, including The Clever Little Kitten for World Book Day.
The delightful 10-book set of animal stories includes popular titles: Timmy in Trouble, Max the Missing Puppy, Sam the Stolen Puppy, Buttons the Runaway Puppy, Harry the Homeless Puppy, Misty the Abandoned Kitten, Lost in the Storm, Ginger the Stray Kitten, Sky the Unwanted Kitten, Jess the Lonely Puppy.
Snazal is a global book distributor, and supplies book stores and small businesses with titles about topics ranging from history to gardening. The site allows customers to buy individual titles or titles in bulk, and features more than 2.2 million books.
About Snazal
Since 2006, Snazal has grown to become a worldwide book distributor, supplying independent book stores and other small business venues with specially selected, handpicked titles. Snazal offers more than 500,000 books on a variety of topics, ranging from children's interests to history, to the general public and trade communities. To date, this UK-based supplier has worked with prestigious distributors and publishers to serve more than one million customers.