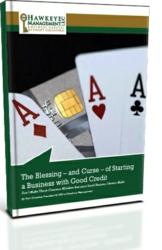 small business owners often borrow money incorrectly.
Blackwood, NJ (PRWEB) June 27, 2013
Hawkeye Management announces how actually having good credit when starting a business can be a blessing and a curse. The small business loans and working capital company has compiled extremely helpful information on credit into this whitepaper. This document is very insightful and educational for prospective entrepreneurs and those who wish to acquire and use business credit properly.
Situation:
When starting or growing a business, small business owners need to acquire credit. Many business owners start their businesses with a lack of understanding of what their credit and borrowing options are. Some owners do not understand how they can and cannot borrow money. Often it is worse when a business owner has excellent credit and believes he or she has loan options that do not exist. Business owners can fall into the trap of previous business owners by making bad decisions, obtaining the wrong or no funding, using credit cards incorrectly, and decrease their ability to receive additional capital as their business grows.
Problem:
One of the most common problems faced by small business owners is that they borrow money and use credit cards the wrong way. This is what millions of small business owners have done wrong but there is a way to borrow money that protects, preserves, and improves the credit profile of the business owner. Ironically, the problem can be worse for people who start their business with good personal credit.
To read more on the blessings and curses of Starting a Business with Good Credit click here to get your free whitepaper "The Blessing- and Curse of starting a business with good credit."
Hawkeye Management connects entrepreneurs and small business owners with $50,000-150,000 or more in freely spendable business credit lines. They specialize in helping small business owners obtain low-cost financing without pledging collateral. Hawkeye Management knows what does and doesn't work, and how small businesses can get the credit they needs as quickly as possible.