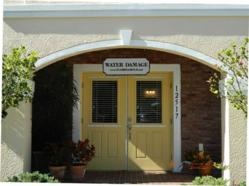 Coastal Disaster Recovery sets itself apart from other water damage restoration providers, as we do not market to insurance companies. 'Your Unfair Weather Friends' work for our customer, not for the insurance company.
Tampa, Florida (PRWEB) June 04, 2013
Coastal Disaster Recovery's new office space is designed to support further growth and collaboration with customers. The new Bassbrook Lane location will enable Coastal Disaster Recovery and its affiliate company, QCI Mold & Water Damage, to continue to efficiently deploy and support its restoration services. Coastal Disaster's mobile units will remain offsite, strategically positioned throughout the State of Florida to enable Coastal Disaster to respond quickly to emergencies. Coastal Disaster performs its work at customer sites for industrial, commercial, multi-family, residential, medical, and hospitality properties.
Please note Coastal Disaster's new address: 12517 Bassbrook Lane, Tampa, FL 33626. All phone numbers will remain the same. All email addresses will remain the same. Customers are welcome to stop by the new office.
Susan Hadaway, Business Manager, coordinated the relocation. Susan Hadaway will continue to manage both organizations, including the Bassbrook Lane operation. Susan Hadaway and her team quickly transitioned into the new office, enabling Coastal Disaster Recovery and its affiliate to immediately refocus to its disaster restoration efforts. Coastal Disaster is once again prepared to support projects and provide timely service during the upcoming Florida rainy season and hurricane season.
About Coastal Disaster Recovery, Inc.
Coastal Disaster Recovery is a leading service provider in both residential and commercial markets for disaster restoration services, mold remediation services, property inspections, and water damage emergencies, 24 hours a day, seven days a week. Stephen Delgado, Managing Partner, holds four Florida licenses: Division 1 General Contractor, Mold Assessor, Mold Remediator, and Building Inspector. Stephen also serves as an expert witness for Florida attorneys in large loss, construction, and mold-related claims. Stephen's wide range of experience gives him an extra edge, enabling Coastal Disaster Recovery to investigate, protect and restore properties from a holistic viewpoint.