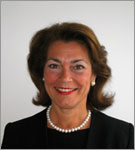 As transitions occur... an effective succession plan must be reviewed and adapted to ensure it continues to meet each family's unique needs over time.
- Linda Mack
Chicago, IL (PRWEB) June 03, 2013
Linda C. Mack, founder and president of Mack International, a premier retained executive search and strategic family office/human capital management consulting firm, will facilitate a closed-door breakfast roundtable on June 7 at the European Family Office & Private Wealth Management Forum. More than 150 executives are scheduled to attend the event at the Intercontinental Geneve in Geneva, Switzerland, June 5-7, 2013.
The Forum, part of the Opal Financial Group Private Wealth Series, is exclusively presented for high-net-worth individuals and family offices from around the world. "Some of the most well established family offices, private investors, money managers and private wealth service providers from around the globe attend for engaging discussions on the latest investment and human capital trends surrounding current and future family generations," said Linda Mack.
Linda Mack will co-lead the closed-door breakfast roundtable discussion with Sandy Loder, Chief Executive, AH Loder Advisers, titled "Family Governance, Succession Planning and Sustainable Wealth: Planning for the Next Generations." The session will address the particular and varied succession issues confronting families, family offices and family business enterprises. Ms. Mack and Mr. Loder are leading experts in the field and have assisted families around the world in successfully navigating these complex challenges.
"As transitions occur or circumstances change, an effective succession plan must be reviewed and adapted to ensure it continues to meet each family's unique needs over time," Mack said. "Our session will begin with an overview presentation, followed by an interactive roundtable discussion about key trends, challenges and best practices in succession planning."
Mack added, "Families especially enjoy a closed venue in which they have an opportunity to meet other families, candidly discuss topics of mutual importance and share and learn from one another's experiences."
The European Family Office & Private Wealth Management Forum will also feature sessions on international private wealth, investment styles and strategies, alternative family office structures, philanthropy, private equity, and opportunities associated with investing in emerging markets, alternative investments, real estate and fixed income markets along with numerous other asset types.
Mack International, LLC, headquartered in Chicago, is a global retained executive search and consulting firm serving clients in the family office/wealth management industry on a national and international basis. For more information, visit http://www.mackinternational.com or call 800.976.0015.