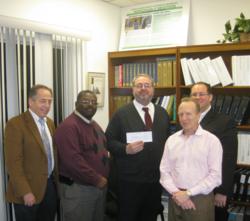 (PRWEB) June 17, 2013
Under the stress of greatly reduced budgets, Newark Public Schools looked for ways to reduce operating costs. They chose to invest in energy efficient technologies to significantly lower energy consumption, reduce utility expenses, and demonstrate environmental stewardship. With these goals in mind, several new schools built over the last few years were designed to incorporate the most cost effective HVAC, lighting, and building envelope technologies available.
Newark Public Schools was assisted by a design team of highly skilled and experienced firms. One of these firms included D&B Engineering, one of the largest HVAC suppliers in the region. Led by Jeff Barat, one of the firm's partners, along with John Taguer, Director of Business Development, D&B worked closely with Newark Public Schools to manage the entire design and construction process, which included the use of innovative technologies such as thermal storage, geothermal water source heat pumps, and gas cooling systems.
As a result of this collaborative approach, three of the newest schools (Central High School, Newark First Avenue Elementary, and Science Park High School) have been certified as "Energy Efficient Commercial Buildings" because they meet and exceed the requirements of the 2005 Energy Policy Act (EPAct). Newark Public Schools has been rewarded for its environmental stewardship and commitment to the taxpaying community through the EPAct Gives Back™ program. Newark Public Schools received certification for its achievements by Walker Reid Strategies, Inc., after participating in an intense engineering analysis and inspection process to meet the requirements of the Energy Policy Act.
David Diaz, Director of Sales, at Walker Reid Strategies, Inc., commented, "The Newark Public School's commitment to energy efficiency and conservation is admirable and sets a high standard of innovation for other institutions to follow."
Newark Public School's Executive Director of Facilities added, "Even under such difficult economic times for schools all over, we are proud to implement a program that cuts costs, curbs carbon emissions, and fosters a better learning environment for our students."