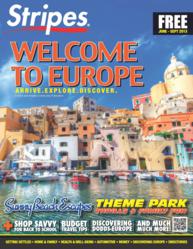 Our newest edition emphasizes travel opportunities for the summer, from fun-filled cruises to enriching, hands-on trips with the kids
(PRWEB) June 12, 2013
Looking for events, activities and fun for the whole family in Europe this summer? Grab a copy of Stripes Welcome to Europe guide. Stars and Stripes, a multimedia news organization, provides independent news and information to the U.S. military community. Stripes Welcome to Europe guide is a free tri-yearly print and digital publication that is compiled for U.S. service members and civilians stationed at U.S. military bases in Europe.
Stripes Welcome to Europe Guide features:

Economy travel – advice for having fun without breaking the bank.
Plan a trip with highlights of London, Cannes, Crete and more.
Moms helping moms – use social media to network in new communities.
Family fun – plenty of thrills at Europe's amusement parks.
Top beach destinations for a sunny getaway.
Easy ridin' – make sure everyone is ready for motorcycle season.
Summer events and festivals, such as the 100th Tour de France
Discovering DODDS – all about back to school.
Find out where to get the best deals on school supplies and clothes for the kids.
Europe by sea – make the most of a cruise vacation with itinerary options and quick tips.
GPS Addresses to major U.S. military installations in Europe.
Handy reference charts to make conversions a snap.
"The newest edition emphasizes travel opportunities for the summer, from fun-filled cruises to enriching, hands-on trips with the kids," said Genevieve Northup, writer-editor for Stars and Stripes Europe Publishing and Media Design department. "We also offer in-depth coverage of summer programs for children so that parents can make plans now," she said.
Stripes Welcome to Europe guide is the perfect tool for a fun summer. The print edition and online portal at stripes.com features tips, interviews, weekend getaways, where to eat and shop and many more sections which help people familiarize themselves with a new culture. Print copies are also available at the Stripes Store. Let your adventure begin with Stripes Welcome to Europe guide.
About Stars and Stripes
Stars and Stripes reports on military matters as the only independent source for news and information operating inside the U.S. Department of Defense that serves the global U.S. military community. Editorially independent of any outside interference and influence, Stars and Stripes provides commercially available U.S. and world news and objective, factual staff-produced stories relevant to the military community it serves.
In addition to providing news in print, Stars and Stripes offers its unique reporting on stripes.com, through the Tablet Edition app and iPhone App, both available on the App Store, a smartphone app for Android and through subscription to free email newsletters.