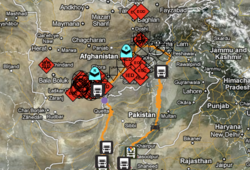 GeoEmblem helps military C4ISR systems display common symbol information in a clear and instantly recognizable way.
Alexandria, VA (PRWEB) June 18, 2013
TransVoyant™, provider of real-time intelligence and decision solutions, today announced that its Military and Homeland Security symbology web service, GeoEmblem™, is now available for free download at http://www.transvoyant.com/products/geoemblem. GeoEmblem is currently used for forensic and real-time tracking and analysis of objects and object interactions through dynamic generation of point-based Military Standard (MIL-STD) 2525B/2525C and Department of Homeland Security symbols within mapping applications.
"GeoEmblem helps military C4ISR systems display common symbol information in a clear and instantly recognizable way," stated Kirk Bloomquist, TransVoyant Vice President of Software Development. "Dynamically changing the symbols generated through GeoEmblem adds a powerful dimension for displaying situational awareness of operational events – enabling analysts, operators and warfighters to quickly identify important objects such as aircraft, ships and troops."
GeoEmblem was originally created as a response to the U.S. Defense Information Systems Agency's MIL-STD 2525 program, which helps ensure that all branches of the military, as well as related agencies and private sector activities, share a common symbology. This commonality is a critical part of any military command, control, communications, computers and intelligence (C4ISR) system needing to display real-time information in a clear and unambiguous way.
"The same customers that use GeoEmblem continue to be a big part of our Team's success," stated Dennis Groseclose, President of TransVoyant. "We are committed to our defense and homeland security customers and GeoEmblem is a tool that helps further their mission."
In lieu of a product charge, TransVoyant is requesting that donations be made through its website to the Special Operations Warrior Foundation and the CIA Officers Memorial Foundation, organizations close to the hearts of the TransVoyant Team that support the families of military special operations forces and fallen Central Intelligence Agency Officers.
Learn more about how to donate and download a complimentary copy of GeoEmblem today by visiting http://www.transvoyant.com/products/geoemblem.
About GeoEmblem
GeoEmblem is a Military and Homeland Security symbol rendering web application that is platform-agnostic, lightweight, simple to deploy and easy to use. Symbols are provided via a simple web-service, allowing any network-connected client to request symbols and integrate them with their own application. Symbols are drawn dynamically as requested, allowing for dynamic symbol sizing, versus static, predefined images from a disk-based library.
About TransVoyant LLC
In our high-volume data-driven world, TransVoyant delivers real-time intelligent decisions to global customers. TransVoyant employs a team of cleared analysts, consultants and technologists to assist clients in designing, implementing and managing solutions for outcome-focused intelligence. TransVoyant solutions are used by business and government customers to make real-time decisions with high-velocity live location, time, context and preference information. Our decision and predictive analytics technologies and proven value-focused methodology, combined with our long history of on-time and on-budget solution delivery, improve outcomes for intelligence, defense, supply chain and risk management customers. TransVoyant is headquartered in Alexandria, Virginia, with additional locations in Alabama, Florida, Michigan, Minnesota, and Pennsylvania. Learn more at http://www.transvoyant.com.